Airline consolidation can't offset $100 oil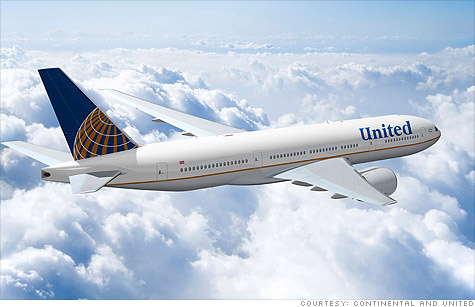 FORTUNE -- Airlines are experiencing a bad case of déjà vu. Faced with jet fuel prices 50% above their levels just a year ago, the carriers tried to hike ticket prices last weekend for the eighth time this year. The first six went through without a problem, boosting the average fare in major markets by about 14%, according to FareCompare.com. And if you go back to mid-December, airlines were nine-for-nine in fare increases.
But this time things unraveled. Delta (DAL, Fortune 500) and American (AMR, Fortune 500) backed off ticket increases almost immediately, and United (UAL), Continental, and US Airways (LCC, Fortune 500) eventually followed. Even in the 140 markets where these so-called legacy carriers don't compete against discounters like JetBlue (JBLU) and Southwest (LUV, Fortune 500), which didn't participate in the latest round of hikes, fare increases were eventually rolled back. (Results from the latest increases over the past few days aren't yet in.)
The last time two fare hikes failed in the month of March as oil prices reached $105 a barrel? It was 2008, says FareCompare. American was losing $3.3 million a day and the legacy carriers posted red ink across the board. The question now is whether, after mega-mergers between Delta/Northwest and United/Continental cut competition to strengthen the industry, airlines can raise fares and cut unprofitable flights enough to make money when oil is $100 a barrel.
Listening to the CEOs of these companies, you might think they have a chance. The theory is that airlines are a lot like other businesses reliant on oil. When prices spike, as they have so often over the past three years, those businesses can pass their increased costs onto the consumer or whoever buys their products. Delta's CEO Richard Anderson told analysts as much in the company's last earnings call.
"Longer term, we must, like any other energy-intensive industry such as oil companies, utilities and railroads, pass on these higher fuel costs to our customers," Anderson said. In fact, in the March quarter, Delta said it raised revenue enough to offset fuel costs in four of its five markets.
Most of the major airlines have also decided to cut back growth plans -- what the industry calls capacity expansion -- for 2011. United Continental, American Airlines, and US Airways have all said they've trimmed planned expansions.
Which brings us back to the déjà vu moment: airlines aren't likely strong enough today to post profits with crude topping $100 a barrel for any extended period.
"Given current capacity levels, the airlines can't maintain high enough fare levels to offset the fuel costs," says Vaughn Cordle, chief analyst for AirlineForecasts and a veteran airline watcher. "They have to eat it." According to Cordle's analysis, domestic airlines face $15 billion more in fuel costs this year if jet fuel prices stay elevated (they rose to $136 a barrel from the low $90s just a year before). Revenue has to jump 11% to make up the difference. Higher ticket prices are one way to do it, but pretty soon consumers will get fed up enough to find alternatives to flying. So in truth, revenues have to rise 17% to make up for fuel prices. "That's huge," says Cordle.
Huge and unlikely. When United merged with Continental last year, the hope in the industry was that the deal ushered in a new era when capacity would fall enough to sustain airlines in tough times. But that ideal market is still a while off.
Meanwhile, Southwest, the single best airline at hedging against rising fuel costs, is pouncing on other carriers' fragile state and bucking fare increases to gain market share. Last weekend's price hike unraveled in large part because of Southwest. CEO Gary Kelly told analysts this month that the airline would keep its plan to boost capacity by 4% to 6% in 2011.
Even if it's painful in the near-term, however, it all could eventually work itself out in the airlines' favor. If airlines can't raise ticket prices enough because of discounters like Southwest and their own incentives to undercut rivals, the legacy carriers with the highest costs will have to cut capacity to stem the bleeding on the balance sheet. They'll park planes in the desert. By cutting supply, they'll boost prices over the long-term.
So expect to see airlines trying to hike fares on an almost weekly basis. Some will go through, some won't. The dance is likely to happen again this weekend. But if oil stays above $100, for the second time over the past few years, you'll see airlines posting major losses before things get better.