McDonald's to hire 50,000 workers - in 1 day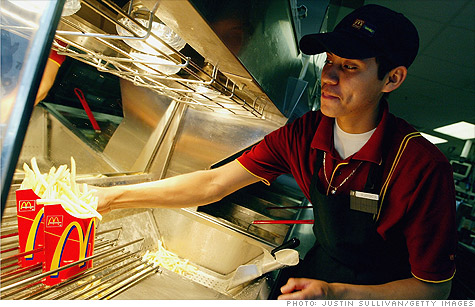 NEW YORK (CNNMoney) -- McDonald's said Monday that it is planning a one-day hiring spree of 50,000 new workers on April 19 for its U.S. restaurants.
McDonald's (MCD, Fortune 500) said that these new "Mcjobs" will include crew and management positions, part-time and full-time.
McDonald's, which has 14,000 restaurants in the United States, said the hires will occur nationwide.
"We're excited to offer 50,000 new jobs, all across America, all in one day," said Jan Fields, president of McDonald's U.S.A.
Fields, who started working at a McDonald's restaurant as a crew member behind the counter in 1978, said the 50,000 new hires will increase the U.S. workforce to 700,000 from its current level of 650,000.
She said the average pay for the jobs is $8.30 an hour. That's compared to the federal minimum wage of $7.25 an hour, though in some states the minimum wage is higher. She said that restaurant managers can make $50,000 a year.
This announcement from McDonald's is just the latest sign of an improving job market. On Friday, the U.S. government announced a gain of 216,000 jobs in March, pushing the unemployment rate down to 8.8%, its lowest level in two years.