Plastic surgery rebounds as job seekers try to look younger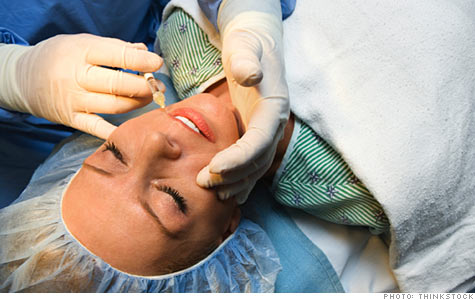 NEW YORK (CNNMoney) -- As the U.S. economy gets a lift, so do faces.
More than 13 million cosmetic plastic surgeries were performed in the U.S. during 2010, up 5% from 2009, according the American Society of Plastic Surgeons, or ASPS.
Phillip Haeck, president of the ASPS, has noticed a sharp increase in plastic surgeries in his own practice. And much of his business is coming from men over the age of 55 who are concerned about keeping their jobs.
"It's very, very important that you hang on to your job in this market and men seem more willing to do things to keep that job," Haeck said.
Scott Livingston, 57, opted for blepharoplasty, or an eye lift, in December after considering it for several years. "I wanted to be competitive with the next generation in my field," the financial planner said. "You have to be the very best you can now, more so than ever and your image has a factor."
Livingston also says he recently tried botox and splurged on pricey skin creams to maintain a more youthful appearance.
Many others, still concerned about the expense of elective procedures, are now opting for injectable treatments, like botox and fillers, over surgical fixes.
While eye lifts rose 3% and facelifts grew 9% last year, injectables were up 12% and fillers, such as fat injections, jumped 14%, according to the ASPS.
"A lot of people want to take years off their face, get rid of lines around eyes, between the eyes and on the forehead," New York plastic surgeon, Norman Rowe explained. "But what the economy does is make people shy away from surgical procedures in favor of non surgical procedures, like botox and fillers, which are cheaper."
Rowe estimates that about 80% of his business consists of nonsurgical treatments. Those are particularly desirable for job hunters who are on a tight budget and also don't want to miss out on any opportunities during the recovery period.
"A lot of people, if they are looking for a new job, can't afford the downtime," he said.
Haeck predicts that as the economy continues to improve and hiring picks up, surgical procedures will be increasingly popular and cosmetic treatments across the board in 2011 will outpace even pre-recession levels.