3 ways to drive down your car insurance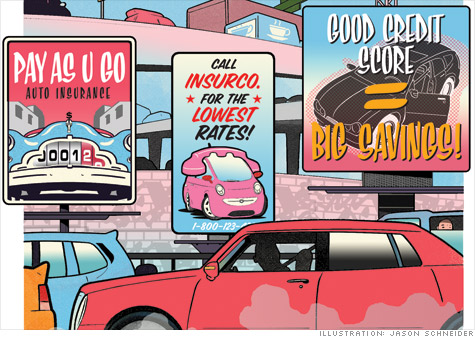 (MONEY Magazine) -- Fed up with the rising costs of driving your car? Here are tips to lower how much you pay for car insurance.
1. Get a new kind of plan
The scoop: You install a device in your car that monitors how much you drive, plus your acceleration and braking habits.
The fewer miles (and the more safely) you drive, the lower your premium and your gas consumption -- no small matter these days.
Pay-as-you-drive plans are available from large insurers such as GMAC and Progressive in 35 states and counting.
Do this: Call your insurer or visit your state insurance regulator's website to see whether you can apply.
Your savings: Up to 30% if you drive less than 15,000 miles a year.
2. Raise your credit score
The scoop: Most insurers now use a credit-based score to set rates for new customers.
"People with higher scores tend to make fewer and smaller claims," says Steven Weisbart, chief economist at the Insurance Information Institute. But if your score goes up, your insurer won't automatically lower your rate.
Do this: Once you've upped your credit score (see cnnmoney.com/creditscore for tips), call your insurer and ask it to lower your premium.
Your savings: A driver with a top score could pay a couple hundred dollars less a year than one with a so-so score, according to comparison site Insweb.com.
3. Call the other guys
The scoop: The average car insurance premium has risen 5% in the past two years. But there's lots of variation in how much different insurers will charge a given driver, says Weisbart.
Do this: Check quotes online or call an independent agent (find one at iiaba.net).
Your savings: Up to 35%. A 45-year-old male driver, for example, could save as much as $460 a year by swapping insurers, according to Insweb.