Look Ma! AT&T finally above $30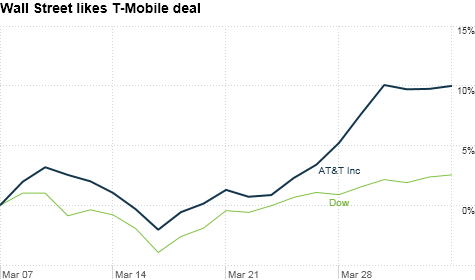 NEW YORK (CNNMoney) -- It's been a tough decade for Ma Bell.
Investors in AT&T have watched the stock do very little in the past ten years even though AT&T has transformed itself from a stodgy long distance company to a leader in wireless communications.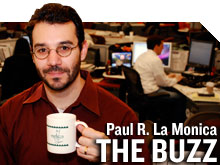 The new Ma Bell, which was created in 2005 through the merger of the old AT&T (T, Fortune 500) and Baby Bell SBC, has been a true dog.
The stock is down more than 30% since April 2001. The Dow is up about 25%. Even if you factor in AT&T's super-rich dividends, the stock barely broke even on a total return basis, according to data from Thomson Baseline.
There is a special place in my heart for AT&T. A freelance piece I did about Ma Bell and its numerous offspring in October 2001 for CNNMoney helped land me my gig here. I continued to follow the company's sluggish growth closely as part of the tech and media beats.
AT&T's weak performance gave me many opportunities for some admittedly cheap-shot/kick 'em while they're down headlines for stories and charts. ("Throw Ma Bell From the Train" and "Dial M for Miserable" are personal favorites.)
But a curious thing has happened in the past few weeks. AT&T has rallied following the news that it plans to buy the U.S. assets of T-Mobile from Germany's Deutsche Telekom. That deal will vault AT&T ahead of Verizon (VZ, Fortune 500) in wireless market share.
AT&T's stock is up 10% since the T-Mobile deal was announced and Ma Bell is very close to its 52-week high. The Dow (INDU) is up an impressive 4.5% during the same time frame.
So what's really interesting here is that AT&T is actually leading in an up market. It would be one thing if AT&T was outperforming when the market wasn't doing well.
That often happens since AT&T, thanks to a dividend that yields more than 6%, is viewed as a relatively safe stock for so-called conservative widow and orphan investors. Ma Bell's dividend, after all, is a lot more attractive than a 10-year U.S. Treasury yielding just 3.4%.
"You could buy AT&T just for the dividend. With a 6% yield, it's a good bond substitute," said Dan Genter, chief investment officer of RNC Genter Capital Management in Los Angeles. AT&T is a holding in the firm's RNC Genter Dividend Income Fund (GDIIX).
But has AT&T really changed all that much to justify the new-found love from investors? Analysts still expect growth that's barely above a snail's pace.
Consensus forecasts are for revenue increases of 1% a year in 2011 and 2012 with profits estimated to increase 3.5% this year and 7% next year. Despite this, shares trade at 13 times 2011 earnings forecasts.
That's only a slight discount to Apple (AAPL, Fortune 500), which is valued at 14 times this year's profit estimates even though it is growing at a much faster clip than Ma Bell. The small discrepancy is particularly surprising since you could argue that AT&T owes much of its success to Apple's iPhone.
Genter said that's a short-sighted approach though. He argues that the T-Mobile deal, assuming it gets past regulators, should add to earnings in 2013. He added that taking T-Mobile out of the mix as a competitor is good news for AT&T since T-Mobile has typically offered cheaper monthly plans.
But it's no guarantee that the Federal Communications Commission and Department of Justice will give the merger their blessing. Maris Ogg, president of Tower Bridge Advisors, a money manager in Conshohocken, Pa., said she thinks it's a toss-up that the deal is approved.
Ogg, whose firm owns shares of AT&T but has been trimming its stake in recent months, agreed that the deal would be a plus for AT&T. But there's the potential for a lot of headline risk as it will likely take more than a year before it's clear what will happen in Washington.
Ogg said she'd be a seller of AT&T shares at a price over $30 (they were trading around $30.75 Monday) and a buyer in the low $20s. She said she doesn't think her firm will ever unload its entire stake of AT&T -- mainly due to the dividend.
But she added that there's still little to get excited about beyond the fat yield, even with the growth in wireless. Ma Bell's other "old" businesses, which include wireline voice, data services and its directory division, still account for more than half of AT&T's total sales.
"AT&T hasn't been an attractive investment for the past few years," Ogg said. "Long distance keeps going down. At some point, long distance will have declined enough that it's no longer significant. But we're not there yet."
-- The opinions expressed in this commentary are solely those of Paul R. La Monica. Other than Time Warner, the parent of CNNMoney, and Abbott Laboratories, La Monica does not own positions in any individual stocks.