Brace yourself: Windows 8 is coming soon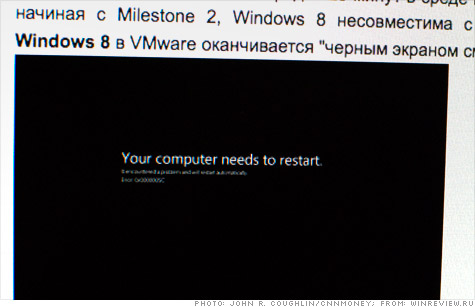 NEW YORK (CNNMoney) -- While most of the world has yet to upgrade to Windows 7, Microsoft is gearing up to launch the next version of its PC operating system.
Web forums lit up last week with the news that PC manufacturers had just gotten their hands on a new Windows 8 test build. Several analysts reported that equipment makers had received "early beta" test versions of the operating system, after trying out much more rudimentary "alpha" versions earlier in the year.
Microsoft (MSFT, Fortune 500) declined to confirm anything about Windows 8, but it's customary for the software giant to release its future operating systems in multiple test stages.
Considering that Windows 7 has been on the shelves for just 17 months, what's Microsoft's big hurry?
Tablets. Or "slates," as Microsoft likes to call them.
Windows 8 will operate on the ARM microchip architecture, the technology that powers most of the world's smartphones and tablets. In the past, Windows has always required devices to have a processor built on the x86 platform, which Intel (INTC, Fortune 500) or AMD (AMD, Fortune 500) designs.
Analysts expect Windows 8 to feature enhanced graphics, 3-D support, facial recognition, instant-on capability, and a Windows app store.
You know, all things that the iPad and other tablets and smartphones can do now.
Though Windows 7 works on a very small handful of tablets running Intel's Atom processor, ARM compatibility will open up Windows to a far wider range of devices. Getting Windows 8 on ARM-based devices means Microsoft may finally be able to develop some semblance of a tablet strategy.
"Microsoft cannot act fast enough for a tablet," said Neil MacDonald, a Microsoft corporate strategy analyst at Gartner. "They are already two generations behind Apple and Google."
Analysts predict Microsoft will release Windows 8 to the public sometime between this summer and the first quarter of 2012, with a tablet-compatible version likely to come in the summer of 2012. Dell (DELL, Fortune 500), for instance, is rumored to be working on a Windows 8 tablet, codenamed Peju, which won't be ready until the middle of next year.
"Windows 8 could be available as soon as this holiday season, but Microsoft won't be able to get its ARM version out that quickly," said Trip Chowdry, analyst at Global Equities Research.
Though the tablet play is most crucial, analysts note that Microsoft is also desperately trying to get its customers off outdated versions of Windows. About 54% of PCs currently run the 10-year-old Windows XP, and 11% are on the five-year-old Vista, according to Net Applications.
Many businesses skip one cycle between their Windows updates. For those that took the Vista bait but sat Windows 7 out, Windows 8 could entice them to upgrade off the widely panned Vista.
Releasing another version of Windows could also help convince many of those XP laggards to finally update their systems -- not a bad idea, considering they'd be three releases behind after Windows 8's debut.
"Not every customer deploys every release, because some customers may not need the specific new capabilities of that release," said Al Hilwa, analyst at IDC. "So I don't see an issue of having too fast of a development cycle."
Still, Microsoft is being unusually secretive about Windows 8. The company is typically is unafraid to discuss or even release beta versions to the public, but this time it's working quietly. Some experts suspect that that the company doesn't want to impede the success of Windows 7 in any way.
Microsoft hasn't even confirmed that the name of its next Windows iteration will be "Windows 8." Internally, Microsoft refers to it as Windows. Next, but many Microsoft employees on LinkedIn refer to the new OS as Windows 8.
One amusing twist: Windows 8 is likely to actually be Windows 6.2.
Microsoft discontinued naming its operating systems after version numbers following Windows 3.1. But officially, Windows 95 was version 4, Windows 98 was version 4.1, Windows 2000 was version 5, Windows XP was version 5.1, Windows Vista was version 6, and Windows 7 was version 6.1.
Or, as many view it, version "mopping up the Vista mess." That could end up being the best feature of Windows 8: It will move Microsoft one version further away from its Windows nadir.