4 steps to protect your home against disaster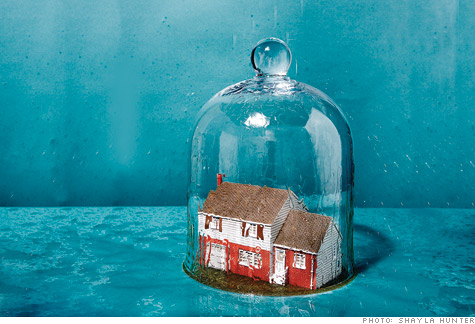 (MONEY Magazine) -- Three-quarters of families are unprepared for natural disasters, says Russell Bissell of the American Red Cross. Don't be one of them. Stow some water and nonperishable food (see fema.gov for a supplies checklist). You can protect your home from power outages and flooding with these four projects.
1. Add emergency power
Cost: $1,000 to $2,000, with wiring
A portable generator keeps essential electrical items running during blackouts from your heat, refrigerator, and key lights to your Internet and cordless phones. It's a small gas-powered motor on wheels that you start with a lawnmower-like pull cord and jack into a receptacle in an exterior wall of your house.
Make sure your electrician installs a transfer switch, which disengages the utility power when you connect the generator, says electrical engineer John Drengenberg of Underwriters Laboratories.
2. Keep electronics safe
Cost: $500 to $800, including installation by an electrician
When the power kicks back on after a blackout, it often comes with a rush of electricity that fries any silicon chips in its path. You probably have plug-in surge protectors for your computer and home theater, but nowadays there are also expensive-to-replace computer controls inside kitchen and laundry appliances and heating and cooling equipment.
A whole-house surge suppressor will shield everything. Choose one that accepts phone and cable wiring too, because surges can come through those lines as well.
3. Set up a flood fix
Cost: $500 to $1,000 for a new installation; $800 to $1,000 to add battery backup to a new or existing pump
Heavy rains and snows -- as well as plumbing and gutter problems -- can fill your basement or crawlspace with water, causing a big mess and destroying belongings stored down there.
Protect yourself with a sump pump, which sits in a hole in the basement floor and automatically turns on when that pit fills. The best units include an alarm to alert you to flooding and a second, battery-operated pump that kicks on if the primary one stops working.
4. Be ready to evacuate
Cost: $125 for the Four Person Deluxe Home Survival Kit, redcrossbayarea.org
What if you need to get out quickly? A home survival kit contains critical supplies such as thermal blankets, water-purification tablets, waterproof matches, and a Swiss Army knife. Add some cash, toiletries, and a week's supply of prescription medications, and you'll be prepared for anything.