Turn your house into a billboard, get free mortgage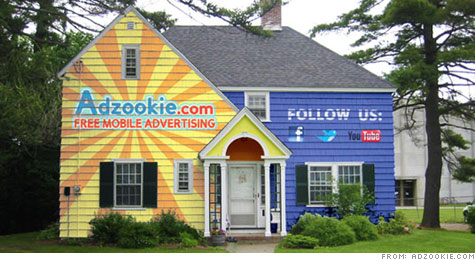 NEW YORK (CNNMoney) -- Startup advertising firm Adzookie has latched on to a high-profile way to publicize itself: by turning homes into massive billboards.
In exchange, Adzookie says it will pay the house owner's mortgage every month for as long as the home stays painted.
Adzookie launched the offer on its website Tuesday -- and by late afternoon, the company had already received more than 1,000 applications, according to Adzookie CEO Romeo Mendoza. One even came from a church.
"It really blew my mind," Mendoza said. "I knew the economy was tough, but it's sad to see how many homeowners are really struggling."
Adzookie intends to paint its logo and social media icons onto participating homes. Houses must remain painted for at least three months, and the agreement may be extended up to one year.
Painting is expected to begin in a few weeks. The above photo, which is included on the program's site, is a digital mockup. (No actual homes have yet been painted.)
Mendoza hopes buzz about the program -- plus, of course, the house-sized ads -- will publicize the fledging Adzookie. Mendoza started the Anaheim, Calif., company 16 months ago and has been running it on his own funds.
Adzookie is mobile ad network that places local businesses' ads for free if they, in exchange, allow ads to be placed on their own mobile sites. Alternatively, ads can be purchased for about $1 a day.
The company currently employs just eight people, but Mendoza said he is looking to raise venture capital and expand.
The home billboard scheme could raise the company's profile -- but don't expect too many homes to score the subsidized deal. Mendoza's budget for the entire program is $100,000, and he expects to spend about $8,000 per house on the painting alone.
At the end of the agreement, Adzookie will paint the house back to its original colors. Leases and rentals aren't allowed, nor are homes in cities with bylaws that would prohibit the bright painting.