Gas prices: Up 20% from January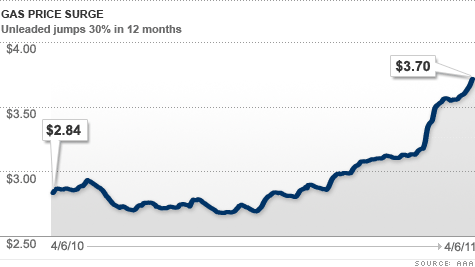 NEW YORK (CNNMoney) -- Gas prices have risen for 15 days straight days and are getting closer to the all-time high of $4.114 a gallon, reached in July 2008.
The average price of unleaded jumped 2.2 cents overnight to $3.707 a gallon, according to motorist group AAA. In the past three weeks alone, prices have jumped 4%. Year to date, gas prices are up a whopping 20%.
And it's not even summer driving season yet, when prices tend to peak for the year.
At this time last year, the nationwide average price for a gallon of unleaded was $2.83. That means that gas prices have gone up 87 cents, or 30%, over the last 12 months.
"It's pretty bad and it's likely to get worse," said Dan Dicker, an oil trader for 25 years and author of "Oil's Endless Bid: Taming the Unreliable Price of Oil to Secure Our Economy."
Dicker said the nationwide average price for gas could hit $4 again "if we get the regular kind of demand that we get during the summer driving season."
The increase is largely being fueled by higher oil prices, which have risen as oil producing nations in North Africa and the Middle East wrestle with chaos. The mayhem has sparked a 24% spike in oil prices over the last 12 months, though prices were relatively flat on Wednesday, slipping 13 cents to $108.15 per barrel.
While gas prices still have a bit of room to go before reaching the July 2008 record, the fact that they're this high before the summer driving season has even gotten underway could spell trouble ahead.
In Hawaii, gas prices have already exceeded the nationwide record. The average price of a gallon of unleaded in the Aloha State was $4.322 on Wednesday, the nation's highest. The lowest statewide average was in Wyoming, at $3.446 per gallon.