Government shutdown: White House details consequences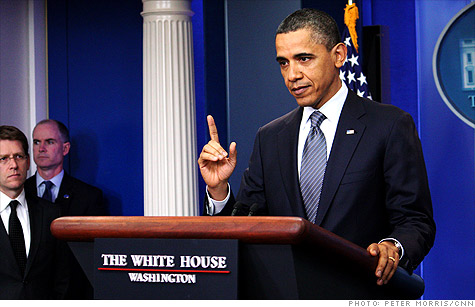 NEW YORK (CNNMoney) -- If the government closes shop after Friday, the IRS will stop processing paper tax returns, the Small Business Administration will stop making loans and federal home loan guarantees will be put on hold.
Those are just a few of the consequences of a government shutdown, according to senior administration officials, who detailed federal contingency plans for the first time on Wednesday.
Lawmakers have been trying to reach a compromise that would set spending levels for the next six months. But with the deadline fast approaching, there appears to be precious little movement toward a deal.
The current spending bill expires at the end of Friday.
The officials stressed that a shutdown would put a drag on the economy, as loans dried up and hundreds of thousands of government workers are put on furlough.
And for the first time, officials hinted at just how many workers would be asked to stay home. The official estimate: 800,000. That means almost a million Americans won't get a paycheck.
Those workers might be receive back pay at a late date, but only if Congress retroactively authorizes it. In other words, no guarantees.
In a nutshell, agencies will only be allowed to perform operations necessary for the safety of human life and protection of property. (Read what happened during the last shutdown.)
National Park Service sites and the Smithsonian Institution would be shuttered, and the Cherry Blossom Festival parade scheduled for this weekend in Washington would be cancelled.
Some of the government's biggest jobs, like defense and medical research, would also take a hit.
U.S. troops would be paid through April 8, but after that, paychecks to members of the military, including those in war zones, would stop.
The National Institutes of Health will stop accepting new patients, and put clinical trials on hold.
At the IRS, paper tax return filings -- about 30% of all returns -- would be put on hold, but electronic filings would be processed.
The Environmental Protection Agency would stop reviewing environmental impact statements, which will slow crucial energy related projects.
E-Verify, the Department of Homeland Security program that helps businesses determine the eligibility of employees, would be suspended, which could lead to hiring delays.