The Lincoln Lawyer is back - and fighting foreclosures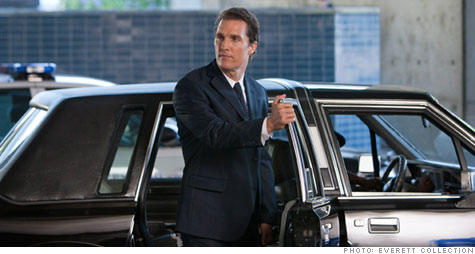 NEW YORK (CNNMoney) -- Even lawyers are powerless against the economy.
Fictional attorney Mickey Haller -- made famous last month by Matthew McConaughey's swaggering film portrayal of him in The Lincoln Lawyer -- is back in Michael Connelly's newest crime thriller, The Fifth Witness. But he's no longer in the criminal defense business.
In these tough times, with unemployment still at 8.8%, nobody can afford Mickey Haller's pricey-but-effective criminal services. The drug dealers, high-end call girls and road gangs he normally defends are all pinching pennies.
Instead, our anti-hero is fighting foreclosure cases.
"Crime doesn't stop, but people with money for private attorneys is drying up," Connelly told CNNMoney. "The economic downturn has had a great impact."
With 225,000 foreclosure filings in February alone -- and 1 million repossessions in 2010 -- Haller is going where the bucks are.
It's a world Connelly is intimately familiar with: The author lives in Florida, which is ground zero for the foreclosure fiasco. The robo-signing plague started there, 20% of homes stand vacant, and house prices are off more than 50%.
"Foreclosure is so big it's like you can't miss it," Connelly said. "But it's sort of dry stuff, and I write murder stories. So I started thinking, is there a way I can get some of this stuff, this fascinating stuff, in there?"
Connelly bounces his ideas off two lawyers he has worked with since he started writing The Lincoln Lawyer, which was published in 2005. When he began conceiving Mickey Haller, they guided him on the nuances of criminal defense, the courts, and all the twists, turns and seedy stuff we love to read about in crime novels.
Fast forward to 2010, when times have gotten tough and clients are scarce.
"One of these attorneys, in the last 18 months, he's changed his business because he was running out of business," Connelly said. "So he became a foreclosure-defense specialist. And my continuing relationship with him, I kind of followed him into that world."
How far that world spreads is an unanswered question. Neither the American Bar Association or the National Association of Criminal Defense Lawyers would comment on the trend.
But there's plenty of murder and intrigue -- even in foreclosures -- to keep Mickey busy.
"It was a lot of serendipity," Connelly said. "I write crime novels, but if I can bring a higher game and bring something a little bit reflective of what's going on the world, then that's great."