ECB raises rates to combat inflation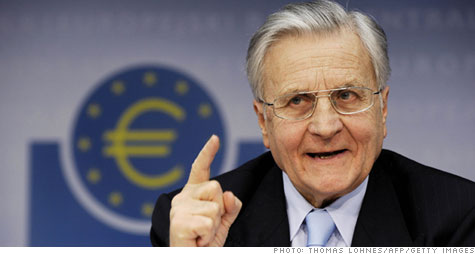 NEW YORK (CNNMoney) -- In a widely expected move Thursday, the European Central Bank raised interest rates for the first time since 2008, in its fight against rising energy and food prices.
The ECB's key interest rate is now 1.25%, up from 1% previously.
In a press conference following the decision, ECB President Jean-Claude Trichet said the hike was necessary to "firmly anchor" rising prices. Despite the hike, interest rates are still low, "very accommodative" and able to spur further economic growth, he said.
While the change comes as hardly a surprise given recent hints from Trichet, it marks the first interest rate hike by a major central bank in a developed economy since the recession.
Central banks around the world have kept interest rates at historic lows since 2008 and 2009, as a way to spur economic activity following the chaos in the credit markets. Low interest rates can stimulate business and consumer spending by making it cheaper to borrow and lend money.
But recently, higher energy and food prices have raised fears that inflation could become unwieldy at a time when economic growth is still sluggish.
Since interest rates are one of the main tools for keeping prices stable, economists have been wondering just how high prices would have to rise before central banks took action.
Several emerging markets have already raised rates, citing inflation pressures. Most notably, China's central bank boosted its key rate earlier this week for the fourth time in the past six months.
However, the Bank of England and Bank of Japan both announced Thursday that they were keeping their historically low interest rates unchanged near zero. The Federal Reserve's key interest rate has stood near zero since December 2008.
Putting pressure on the Fed
Since central banks typically don't hike rates as a one-time move, economists speculate that Thursday's change could start a series of gradual rate increases by the ECB over the next few months.
"We do think they'll probably raise rates by a quarter percentage point every quarter this year," said Peter Westaway, chief Europe economist with Nomura Securities.
Trichet tried to dispel those kind of predictions on Thursday, but also said his board would do whatever is necessary to anchor inflation in the future.
Either way, the rate hike is still a significant move because some think it could put pressure on the Federal Reserve to raise rates later this year.
That said, there are two key differences between the two major central banks. The ECB has merely one job duty -- to keep prices stable. The Fed has two -- to monitor inflation and maximize employment. Plus, the two central banks measure inflation differently.
Speaking to reporters, Trichet said it was not the ECB's intention to send a signal to the Fed, but merely to address the regional needs of the European Union.
"On both sides of the Atlantic, we have enormous reponsibilites," Trichet said. "We never had the sentiment to be a follower. We do not have the sentiment to be the leader. We do what we have to do, and what is important is that we give a benchmark."
Trichet also responded to concerns that higher interest rates could make it more difficult for some of Europe's troubled countries to pay off their debt. The hike will mean Portugal, Ireland, Italy, Greece and Spain -- nicknamed the "PIIGS" -- will be hit with higher borrowing costs as they struggle to finance their deficits.
During the press conference, he repeated several times that the ECB is tasked with stabilizing prices for all 17 members of the euro zone and had to work in the best interest of the group as a whole.
"It is the interest of all members and partners of the single market, with a single currency, that we retain maximum credibility for anchoring inflation expectations" for all ECB members, he said.
The ECB's last rate hike was in July 2008, when -- much like now -- oil prices were spiking but economic growth was slow. But in the midst of the Great Recession, the ECB wound up cutting rates several times. The last cut was in May 2009 to a record low of 1%.