Stocks head for gains as shutdown looms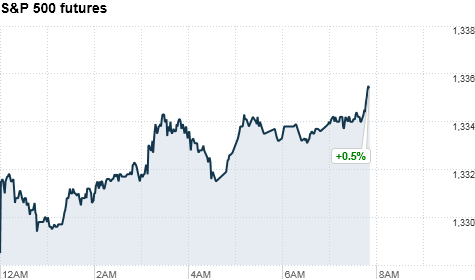 NEW YORK (CNNMoney) -- U.S. stocks were headed for a slightly higher open Friday, as oil and gold prices spiked and investors awaited news about the pending government shutdown.
Dow Jones industrial average (INDU), S&P 500 (SPX) and Nasdaq (COMP) futures edged higher ahead of the opening bell. Futures measure current index values against perceived future performance.
"Markets believe that cooler heads will prevail and that people in Washington aren't dumb enough to cut their heads off, which means that markets haven't met too many people in Washington," said David Wyss, chief economist for Standard & Poor's.
Oil prices rose as high as $111.90 a barrel Friday, a day after Japan was hit with another earthquake. At the same time, the price of unleaded gasoline rose 1.4 cents overnight to a nationwide average of $3.739, according to motorist group AAA.
Tom Kloza, chief oil analyst for the Oil Price Information Service, said prices are being drive by "the fear that there's not going to be enough oil, or enough gasoline to meet summer demand," which he said happens every spring.
"We're going to have at least a flirtation with $4 gasoline," he said. Prices hit an all-time high of $4.114 on July 17, 2008.
Precious metals also rallied, with gold hitting an intraday record of $1,472.60 an ounce.
U.S. stocks fell slightly Thursday, recovering the bulk of an earlier sell-off that was sparked by a second Japanese earthquake.
Government shutdown The federal government faces a shutdown in less than 24 hours unless Congress and the White House reach agreement on a budget for the remainder of fiscal 2011 by midnight ET. Negotiators worked into Friday morning on a spending plan for the rest of the current fiscal year after a fourth White House meeting in 48 hours between President Obama and congressional leaders failed to reach agreement.
The Securities and Exchange Commission said Thursday that, in the case of a Federal Government shutdown, the SEC will function with "an extremely limited number of staff" and only basic investor services will be available.
The SEC will continue to accept securities filings, but available services related to filings will be limited. The SEC also said it will continue to investigate fraud and securities violations, but may only be able to respond to a limited number of incidents.
Companies: Shares of Expedia (EXPE) surged 13% in premarket trading. The travel site operator announced late Thursday that it planned to split itself into two companies. One for TripAdvisor and another for the other Expedia businesses, which include Hotels.com and Hotwire.
Economy: Investors will get February wholesale inventories figures from the Commerce Department at 10 a.m. ET.
Economists expect a rise of 1% versus 1.1% in January.
World markets: European stocks edged higher in midday trading, as investors await word of a possible bailout package for Portugal. Britain's FTSE 100 added 0.9%, the DAX in Germany rose 0.6% and France's CAC-40 gained 0.9%.
Asian markets ended higher, as stocks rallied from Japan's 7.1-magnitude earthquake Thursday. The Shanghai Composite rose 0.7%, the Hang Seng in Hong Kong ticked up 0.5% and Japan's Nikkei rallied 1.9%.
Currencies: The dollar fell against the euro and the British pound, but gained versus the Japanese yen.
Bonds: The price on the benchmark 10-year U.S. Treasury fell, pushing the yield up to 3.59% from 3.55% late Thursday.