Shutdown cost to one small business: $60,000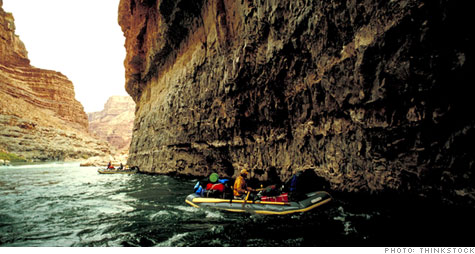 WASHINGTON (CNNMoney) -- Fred Thevenin's rafting business in the Grand Canyon stands to lose $60,000 on Saturday if lawmakers don't work out a deal to avert a federal shutdown.
Arizona Raft Adventures is one of millions of small business owners that will be hit if the federal government shuts down at midnight Friday. Small businesses won't get federal loans. Small federal contractors won't get paid. And firms like Arizona Raft Adventures will have to basically close up shop until a deal is done and national parks reopen.
And unlike federal workers, they won't get back pay.
For Thevenin, the timing is terrible. His rafting business won't be able to launch a 16-day rafting trip on the Colorado River if there's a shutdown.
"We're telling our customers to call their senators and congressmen and tell them that real people will be affected by this closure," said Thevenin,.
On Friday, five small business groups headed to the White House to talk with administration officials about the shutdown's impact on small businesses.
The White House did not respond to questions about the meeting on Friday afternoon.
Groups that attended the meeting laid out long lists of concerns for small businesses and self-employed entrepreneurs. One of the biggest problems is that Small Business Association-backed lending will grind to a halt, said John Arensmeyer, chief executive of the Small Business Majority, one of the groups invited to the meeting. SBA-insured loans have been a bright spot in an otherwise dismal financial environment for small businesses.
"There's this huge ripple effect in all aspects of the economy, especially by small businesses, which are least able to absorb this," Arensmeyer said.
In an informal polling of its member small businesses this week, the National Small Business Association found that 35% of firms reported they expected the shutdown to affect them significantly or minimally. That doesn't sound like a lot, but it adds up to millions of companies, said Molly Brogan, spokesman for the National Small Business Association.
"If you're a small (internet technology) firm and you provide IT services for the Departments of Defense or State, then you're not going to be going into work either, unless it's mission critical," Brogan said.
And self-employed people who filed paper returns won't be able to get their federal government tax refunds to plunge back into their businesses, said Kristie Arslan, executive director of the National Association for the Self-Employed.
"Our smallest businesses -- the self-employed -- will be impacted worse than most because many count on the infusion of capital they receive from their annual tax refund," Arslan said.
At the White House meeting, discussion focused on how the shutdown would affect small businesses, including "skeleton crews" at federal agencies, said Arslan, who was there. Staffers from the Office of Management and Budget and SBA also attended.
White House staffers told the small business groups that political differences over ideological issues remain the sticking point that could cause a federal shutdown. Arslan said small businesses don't care who or what is to blame.
"Our members are just very concerned about possible effects from the shutdown, especially considering tax day is around the corner," she said.
A raft of worries
Most firms will probably not be affected as directly as Arizona Raft Adventures, which is based in Flagstaff. Their 16-day rafting tours, which span 227 miles of the Colorado River, snaking through the Grand Canyon, are pre-arranged and heavily regulated by the federal government. They can't just delay and reschedule a few days later, Thevenin said.
If they don't launch on Saturday, they're out $60,000 in their expenses on equipment, food and beverages, as well as the cost of reimbursing customers for the cost of their missed trip. His company employs 110 mostly seasonal workers.
Already his customers have been flying in, including one from England, and checking into hotels in preparation for the rafting trip.
At this point, Thevenin is telling customers he just doesn't know whether the tour is on, although they're gearing up in case they can go.
"We have many contingency plans," Thevenin said. "We just don't know yet."