Bulls face 1st quarter earnings test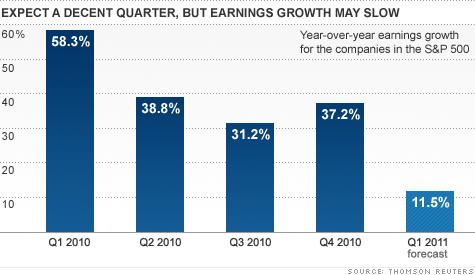 NEW YORK (CNNMoney) -- The quarterly celebration known as earnings season gets underway next week, and investors are eager to see how a resurgent Corporate America is coping with rising energy and commodity prices.
Gas prices have surged this year, and although they remain below the record highs from 2008, prices are expected to continue moving higher into the summer. That could spell trouble for the nascent rebound in consumer spending and put pressure on top-line sales growth.
At the same time, prices for many industrial and agricultural commodities have been sharply rising. Food producers have been looking for ways to deal with higher costs for wheat and corn, while rising cotton prices have led to hand wringing in the apparel industry.
"We're already starting to see some companies pass on cost increases," said Doug Roberts, chief market strategist at Channel Capital Research. In particular, he pointed to shrinking portion sizes in the food industry and the myriad of fees that airlines have come up with to deal with higher fuel costs.
Overall, earnings for the companies in the S&P 500 (SPX) are expected to be up 11.5% over the first quarter of 2010, according to estimates from Thomson Reuters. That compares with 37% earnings growth in the fourth quarter of 2010, when year-ago comparisons were still relatively easy.
Revenues are expected to rise 8% in the first quarter versus the same period last year. That would be unchanged from the fourth quarter, when sales finally started to pick up for many companies.
Dow (INDU) component Alcoa (AA, Fortune 500), the unofficial harbinger of earnings season, is scheduled to report first-quarter results Monday after the closing bell.
While the outlook for the first quarter is still relatively robust, some analysts say the recent spike in oil prices and other cost pressures could put a damper on this quarter's earnings.
"I think you'll hear more about that in the guidance for the second quarter, as we look forward to input costs going up," said Kate Warne, chief market strategist at Edward Jones.
But other analysts say companies have the wherewithal to absorb higher costs and insulate their bottom lines from rising energy and commodity prices.
Many U.S. companies are still benefiting from the weak dollar, according to Alec Young, an equity strategist at Standard & Poor's. He said about half of all sales for S&P 500 companies come from overseas markets, which are worth more when converted into dollars.
"Input costs are expected to rise, but so are revenues," said Young.
In addition, the biggest cost for most companies is labor, which remains cheap because of the lousy job market, he added.
Corporate earnings rose throughout 2010, while sales growth was lackluster for most of the year, suggesting that cost-cutting was driving profitability. But the gradually improving economy has raised optimism about so-called organic earnings growth.
Ethan Anderson, senior portfolio manager at Rehmann Financial, said gas prices have not yet reached the level where companies and consumers will start cutting back.
But the earnings outlook for the rest of the year is murky, as government stimulus programs implemented late last year wind down and corporations are forced to stand entirely on their own, he said.
If energy prices spike, all bets are off.
"Higher energy prices certainly do not help us," said Anderson. "Maybe we'll be able to over come it, but I'm not convinced yet."