Detroit's opportunity of a lifetime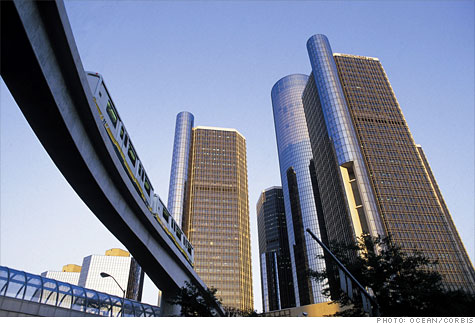 FORTUNE -- The retreat by the Detroit Three in the face of smaller, smarter, fitter cars by Toyota, Honda, and company is a 50-year phenomenon. In that time, Japanese automakers have bucked trade restrictions, an overvalued currency, and "Buy America" sentiments to capture more than one-third of the U.S. car market.
Now, a tipping point has arrived. U.S. automakers have their best opportunity in two generations to hold the Japanese off and push them back.
An improbable series of events has tilted the table in the Americans' favor: long-term product trends, short-term currency fluctuations, and, tragically, a string of supply disruptions brought on by March's earthquake.
To start with, Detroit is finally positioned to head off Japanese gains that traditionally accompany rising gasoline prices.
In past times like 1974 and 1980 when oil prices spiked -- and even as recently as 2008 -- the Japanese have been able to capitalize because they had a ready supply of capable small cars and the U.S. didn't. In the 1970s, the Toyota Corolla and Honda Civic were competing against the likes of the Chevy Vega and Ford Pinto; in 2008, the Toyota Prius became the car of choice for coping with $4 per gallon gasoline.
Not in 2011. General Motors already has found more than 50,000 customers for the compact Chevy Cruze; meanwhile the subcompact Sonic and even smaller Spark are due to arrive later this year. Ford (F, Fortune 500) sold 17,178 old and new Focuses and 9,787 Fiestas in March -- compacts and subcompacts representing one-third of its car lineup. And Chrysler managed to sell exactly 500 Fiat 500s during its first month of availability -- not a huge number to be sure but enough to avoid a shutout in the small car game.
One high m.p.g. segment where Detroit still lags is alternative fuel vehicles. Toyota (TM) sold an astounding 18,605 Prius gas-electric hybrids in March, continuing to lead a segment that it has dominated for more than a decade. By comparison, GM (GM) was able to move just 608 copies of the Chevy Volt, with its complex gasoline-assisted electric powertrain, during its second full month on the market.
Flush with revenue-generating small cars, Detroit's next big opportunity stems from Japan's rising cost of doing business because of the strong yen. During the halcyon years of Japanese expansion in the 1970s, the yen sometimes traded as low as 300 to the dollar. It gradually strengthened over the years but was still trading around 120 in the mid-2000s. Former GM CEO Rick Wagoner complained frequently that the Japanese government unfairly kept the yen artificially low to give automakers a competitive advantage. The Japanese never conceded the point: Wagoner, of course, is gone.
The yen has continued to strengthen, and in the wake of the disastrous Japanese earthquake last month, it climbed to its highest level ever: 76.53. It seems counter-intuitive that a natural disaster would bolster the yen, but traders explain that the Japanese were expected to buy back their home currency to fund the country's reconstruction.
The yen has since weakened to 84 to the dollar. But that still exacts a heavy toll on automakers, one-third of whose sales come from cars built in their home country and exported to the U.S., as well as parts manufacturers. Besides pushing up their cost of doing business, it reduces their revenue from U.S. sales when the dollars come home and are converted back to yen.
But the shelter provided by the strong yen won't last forever as automakers accelerate their hedging strategies. Toyota, for instance, has long stated its intention to move Prius production to the U.S. So Detroit, which has made great progress in reducing its cost disadvantage with Japan, needs to continue to move quickly down that path.
Finally, Detroit can use the next several months to introduce itself to American buyers who would ordinarily shop Japanese brands but are turned away because earthquake-caused supply shortages make the cars too expensive or simply unavailable.
The shortages don't only affect cars made in Japan. Toyota, Honda, and Nissan all say they are going to curtail U.S. production because of a shortage of parts. That's going to cause pain for dealers, and, eventually customers. Automotive News reports this week that AutoNation (AN, Fortune 500), the nation's largest dealership group, expects a 30% to 50% reduction in shipments of some Japanese brands. It is planning for inventory disruptions to hit in May and says they could continue for four months. That will drive up prices as well as reduce availability.
Domestic automakers will face their own shortages of parts sourced from Japan like microprocessors but overall are in a much stronger position to maintain production.
Detroit had already begun to claw back some market share from Japan because of Toyota's recall problems. Japan's share of the U.S. auto market fell from 39.4% a year ago to 38.8% in the first three months of the year. Detroit picked up two-tenths of a percent, expanding to 44% (Hyundai and Kia gobbled up the rest).
Prospering from another company's -- or country's - misfortunes probably won't get you a guest shot on Oprah. To cast it in less negative terms, it is better to think of this as taking advantage of a rare opportunity -- and it is too good a one not to lever to its maximum potential.
For years, marketers have worried that Baby Boomers would be permanently lost as customers for domestic cars because they had never been exposed to them. Now they have an historic chance to reverse that -- and they have never been in a better position to do so.