Record number of Americans get government help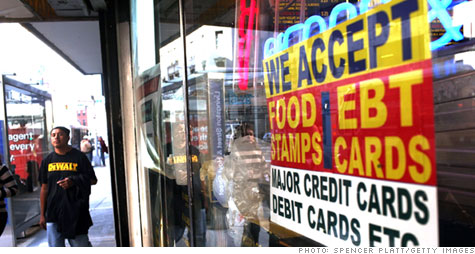 NEW YORK (CNNMoney) -- One in six Americans is receiving help from the government, just as fiscal austerity threatens to reduce some of that aid.
Soaring unemployment during The Great Recession has driven tens of millions of people to the dole. Enrollment in Medicaid and food stamp programs are at record highs, while unemployment insurance rolls remain at elevated levels. Many people depend on more than one program.
But as President Obama and lawmakers fiercely debate budget cuts to reduce the country's $14 trillion-plus debt, some of those lifelines could be at risk. House Republicans are looking to revamp and slash funding for many programs, including Medicaid and food stamps.
House budget committee leader Paul Ryan proposed a budget last week that, among other things, would convert Medicaid and food stamps into block grants -- a move that some say would reduce benefits for the needy. And on Wednesday, President Obama is expected to push back on Ryan's proposals.
If House Republican plans are approved, millions of people who rely on one or more of those programs could lose access to vital services.
What's at stake
Medicaid: The largest of all safety net programs, Medicaid enrollment for the first time ever topped 50 million in June 2010, the most recent figures available. That's up from 42.3 million in June 2007.
The number of people on Medicaid ballooned as unemployed soared. Millions of Americans not only lost their company-sponsored health insurance coverage, but they also saw their incomes evaporate, leaving them eligible for the government health care program, said Robin Rudowitz, associate director at the Kaiser Commission on Medicaid and the Uninsured.
Without Medicaid, more people would go without medical care or would wind up in hospital emergency rooms, she said.
Food stamps: The number of people in the Supplemental Nutrition Assistance Program, known as food stamps, hit a record 44.2 million in January. That's up 4.7 million from the prior year.
Currently, one in seven Americans receive food stamps, the highest share of the population ever to do so, according to the Food Research and Action Center.
Still, one in three people who are eligible for food stamps is not receiving them.
Unemployment insurance: More than 8.4 million people are collecting either state or federal jobless benefits. While enrollment is down from its peak of 12 million early last year, it is still more than double the number it was when the recession began in late 2007.
Some 3.9 million exhausted their extended unemployment benefits last year, said George Wentworth, senior staff attorney at the National Employment Law Project. But the number of initial jobless claims has also declined as the economy improves.
The swollen rolls in these and other safety net programs won't last forever, say advocates for the poor. Once the economy recovers, they will shrink.
"When more people have jobs, enrollment in these programs will start coming down," said LaDonna Pavetti, vice president for family income support at the Center on Budget and Policy Priorities.