Tax the rich! OK, but then what, Mr. President?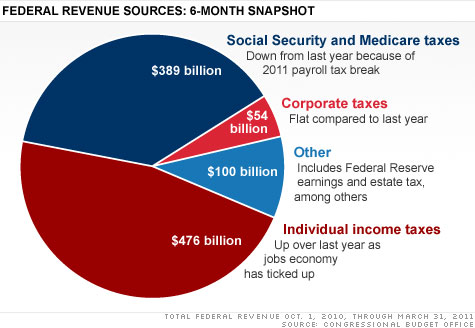 NEW YORK (CNNMoney) -- For years, President Obama has been clear about his preferred tax policy: Tax the rich more and protect households that make less than $250,000 from higher taxes.
It's not clear what he'll say about taxes on Wednesday when he lays out his ideas for how to tackle the country's long-term debt. If history holds, he'll stick to his guns.
Certainly, continuing to promise low taxes for 98% of the country will help his newly launched 2012 re-election campaign. But it wouldn't be a great path to reining in debt. (Sorry GOP: Tax revenue has to go up)
Relying solely on tax increases for the rich to aid in deficit reduction -- even when paired with significant spending cuts -- doesn't cut it for two reasons, said Tax Policy Center senior fellow Roberton Williams.
First, the income of the top 2% of taxpayers is typically more volatile than that of taxpayers lower down the income scale, so when the economy sours, so often do those high-end income streams. That means less revenue than expected will flow into federal coffers.
Second, even if that weren't true, there just aren't enough rich people to generate the kind of revenue needed to substantially reduce deficits.
To show the disparity, consider some recent calculations by the Congressional Budget Office. Raising all six income tax rates by 1 percentage point would yield an additional $480 billion over 10 years. By contrast, raising the top two rates by 1 percentage point would yield just $115 billion.
What Obama has said: In his most recent budget request, the president proposed letting the top two income tax rates revert to 39.6% and 36%, up from 35% and 33% today. He also called for an increase in the capital gains and dividend rates to 20% that high-income households pay, up from 15% today. And he would reduce the value of their itemized deductions and personal exemptions.
All told, those proposals -- which would affect individuals making at least $200,000 and couples making $250,000 and up -- would reduce deficits by just under $1 trillion over 10 years.
That's only about a third of the deficit reduction that would occur if lawmakers just let all of the Bush-era tax cuts expire.
And it's just a tenth of the $1.1 trillion a year that could be saved if the tax code were stripped of the byzantine mess of tax breaks, many of which disproportionately benefit the rich but also benefit those lower down the income scale.
Of course, if one wants more revenue from the $250,000-plus set, why not just raise rates and constrain tax breaks even more than the president has proposed so far?
"You'd have to raise rates an awful lot on the wealthy," Williams said. And by that he meant to heights that would be neither politically nor possibly even economically feasible.
The higher tax rates are, the more likely they are to affect economic behavior by increasing tax avoidance and discouraging otherwise growth-spurring investments. And that, in turn, can reduce the revenue raised.
Tax reform in order: That's why Williams and other tax experts hope that the president will take a cue from his own bipartisan debt commission, which recommended comprehensive tax reform.
The commission report laid a few paths to tax reform. One -- called the "Zero Plan" -- would eliminate all tax breaks. Doing so would raise more than $1 trillion a year, the bulk of which would be used to pay for a steep reduction in individual and corporate rates.
Under that scenario, the commission would reduce the number of tax brackets for individuals from six to three and set income tax rates at 8%, 14% and at 23% -- a 12 percentage point drop from today's top rate.
The commission then offered two other, less extreme versions of the Zero Plan -- each of which adds back some tax breaks. In one case, they restore the earned income tax credit and the child tax credit, both of which benefit lower income households. Under that scenario, income tax rates would be 9%, 15% and 24%.
When they add back still more -- this time including limited versions of popular tax breaks on mortgage interest, health insurance, retirement savings and charitable giving -- the rates would still be lower than they are today, but notably higher (12%, 22% and 28%) than under the most extreme Zero Plan.
In all cases, Williams said, the commission offered up the kind of fundamental tax reform that "can generate a simpler, fairer and more efficient tax code and still bring in more money."