Wisconsin governor takes union fight to Congress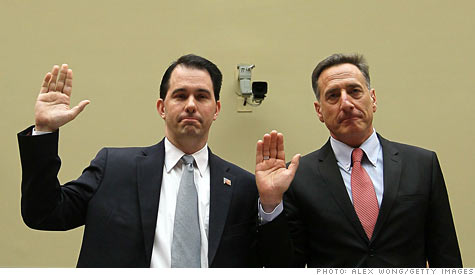 WASHINGTON (CNNMoney) -- The controversial governor of Wisconsin defended his efforts to limit public employees' collective bargaining rights and make them pay more toward pension and health care costs at a congressional hearing on Thursday.
Gov. Scott Walker, a Republican, compared his actions in Wisconsin to other states that are laying off public employees and increasing property taxes.
"While our idea may be a bold political move, I would argue it is a very modest request of our employees," said Walker to a packed House Oversight Committee hearing.
Walker called his efforts "progressive," saying it will give local governments the "tools to balance their budget not for one year, not for two years but for a generation to come."
Walker testified beside Vermont Gov. Peter Shumlin, a Democrat who laid out the ways Vermont balanced its budget without tampering with public employee rights.
"You can balance your budget and you can create jobs in your state without taking on the basic right of collective bargaining," Shumlin said.
Republicans, including committee chairman Rep. Darrell Issa of California, hailed Walker's methods, saying he's taking state debt seriously.
Issa said the mounting deficits in states add up to a combined hole of $112 billion in 2012, "an amount equal to approximately a fifth of their budgets, that if nothing is done, will pile on debt for the future," Issa said.
But Rep. Elijah Cummings of Maryland, the ranking member of the Democratic minority, criticized Walker's tactics, asking him what is "motivating this great effort to dismantle unions themselves?"
Walker's plan
Walker has gained the national spotlight for his plan that would force state and local workers to pay about 5.8% of their income toward their pension and about 12% of their pay toward health care benefits. They currently pay little toward their retirement benefits and about 6% of their medical premiums, Walker said.
Walker says these changes would help the state save $30 million in the last three months of the current fiscal year. Wisconsin is facing a $3.6 billion budget deficit for the two-year period that starts July 1, according to the state's Department of Administration.
But he's roused the ire of public workers nationwide for his efforts to curb collective bargaining for most public employees to wages only. Local law enforcement and fire employees, as well as state troopers and inspectors, would be exempt.
That means health care and pension contributions would no longer be subject to contract negotiations, giving state officials greater freedom to raise them.
The governor, who took office in January, has pledged to plug the hole without raising taxes, which means cutting spending and leaning on state workers.
In March, Walker introduced a proposed budget that would slash more than $1.25 billion from aid to schools, saying the aid won't be missed if the legislature votes to severely curtail public employees' collective bargaining power.
That's because school districts and local governments will be able to raise workers' contributions to their health care and pensions, saving a total of $1.5 billion.
At the Washington hearing, some public employees had followed the governor from Wisconsin, including firefighter Lt. Mahlon Mitchell from Madison, Wis., who sat in the front row behind Walker.
He was among those in the audience who cheered for Vermont Gov. Shumlin when he talked about leaving collective bargaining rights alone.
-- CNN producer Paul Courson contributed to this report.