Rivals go after Go Daddy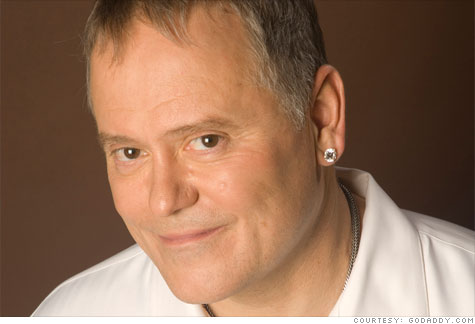 NEW YORK (CNNMoney) -- Small web hosting firms are trying to poach customers from industry leader Go Daddy, which continues to suffer fallout after its CEO posted a video showing him killing an African elephant.
A number of companies have recently launched campaigns to snare customers -- with HostPapa being the latest -- and some have seen a boost in their revenues because of it. Others have not.
These firms are offering deals including free domain hosting, discounted transfer rates and donations to charities that protect elephants.
Such campaigns, successful or not, are unlikely to do serious damage to Go Daddy, which is the largest web hosting company in the country and has a reported annual revenue of $600 million, industry experts said.
In fact, Elizabeth Driscoll, Go Daddy's vice president of public relations, said, "We have seen no significant impact on our business from this."
But it is a smart way for smaller firms to raise their profiles and expand their market share, said MP Mueller, president of Door Number 3, an Austin, Texas-based advertising firm. "Business is about taking advantage of opportunities, and Go Daddy has presented its competitors with a golden one.''
An elephant of a controversy
Last month, Parsons posted a video of him killing an elephant in Zimbabwe along with a photo of the dead animal on his blog. He then tweeted about it, setting off a firestorm of bad publicity.
People for the Ethical Treatment of Animals (PETA) closed its account with the company and urged others to boycott Go Daddy. Other customers soon began declaring that they would leave the company.
Parsons fanned the flames by being unapologetic, arguing that the kill stopped other elephants from destroying villagers' crops and provided food for starving Zimbabweans.
Shortly after, competitors began their elephant-friendly promotions.
HostPapa, in Oakville, Ontario, recently promised to donate $5 to the charity Save the Elephants for every domain transfer that it gets. Customers can also get free domains for life and three months of free web hosting by using the coupon code "elephant" until the end of April.
HostPapa expects to get a lot of customers with this promotion, said Sylvain Patry, the company's senior vice president of business development.
Meanwhile, Network Solutions in Herndon, Va., is offering customers a chance to transfer their domain names for the deeply discounted rate of $6.99, using the coupon code "elephant" until the end of April.
Network Solutions has taken jabs at Go Daddy's conduct in the past, most recently with its Go Granny commercial, which parodies its sexually suggestive television ads.
Not every offer has yielded good results, though. ManicaNet said it will donate $2 to either SaveTheElephants.org, Bush Warriors or ElephantNaturePark.org for every domain transfer that it gets this month. The Vancouver, British Columbia-based firm will also donate proceeds from a customer's first month of hosting to the charity of his or her choice until the end of April.
"So far, we have not had much success with our offer," said owner Martin Hostinsky. "I think we made it too late and most people had already switched to someone else."
NameCheap, which was the first to jump on the controversy, said it would donate $1 for each domain sale that it got and raised $20,433 for charity Save the Elephants. The Los Angeles-based company also offered a discounted transfer rate.
Customers are still coming to Namecheap, even though the discounted rate is no longer being offered, said Tamar Weinberg, NameCheap's community manager.
United Domains in Cambridge, Mass., has received a moderate amount of business from the controversy, even though it has only posted an elephant on its homepage, said Kate Hutchinson, marketing and social media manager.
Hutchinson said that she could not offer any deals, but made sure to reach out to put-off Go Daddy customers with the line: United Domains has "good customer service and we respect elephants."
The similarly-named Domain.com in Vancouver, Wash., saw a 220% increase in new customers in the first two days of a transfer rate sale. The promotion brought a continued lift during the first week of April, said Becky Leung, the company's publicity relations manager.
Domain.com, however, expected more business, considering the backlash, said Leung. "Many people have yet to follow through on their intentions to transfer away from Go Daddy," she said.