RIM stock slumps on critical PlayBook reviews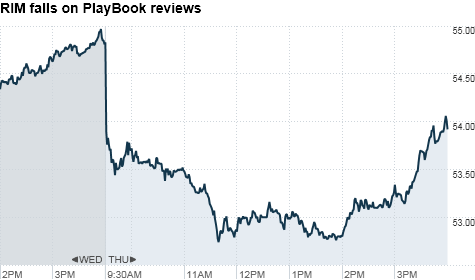 NEW YORK (CNNMoney) -- The early reviews are in for the BlackBerry PlayBook tablet, and the results are tepid at best -- which sent Research in Motion's stock lower Thursday.
Reviewers generally liked the user interface of the 7-inch PlayBook, which is built around a new platform from QNX Software Systems. But many criticized the tablet's "unfinished" feel.
In response, RIM's (RIMM) stock was down more than 3% through most of trading Thursday. The stock recovered a bit later in the day, ending 1.7% lower at $53.92. The PlayBook will be available next week -- on Tuesday, April 19 -- with a price tag starting at $499 for a 16GB model.
RIM started talking up the PlayBook six months ago, and the company is relying on it to generate some badly needed excitement. Investors hope it will solidify RIM's grip on the corporate market, where iPads are starting to sneak in.
But the reviews suggest that this hotly awaited gadget could turn into RIM's Ishtar.
No 3G without tethering: One widely read review came from Walt Mossberg, who wrote in the Wall Street Journal that the PlayBook's user interface is "handsome and quick." But he decried the tablet's "odd system" that requires tethering to a BlackBerry, through an app called BlackBerry Bridge, in order to connect to 3G service.
App gap: Like Mossberg, David Pogue at the New York Times criticized the PlayBook's lack of built-in apps -- including e-mail, calendar, address book and BlackBerry Messenger. The tablet must be connected to a BlackBerry for that functionality as well.
"You read that right. RIM has just shipped a BlackBerry product that cannot do e-mail. It must be skating season in hell," Pogue wrote, noting that RIM says those built-in apps will come this summer.
Unfinished software: Tim Stevens of Engadget noted that RIM is still updating its software "at the eleventh hour." He concluded that PlayBook is "a framework with solid fundamentals but a framework that is, right now, unfinished. We have hardware that looks and feels great but isn't being fully served by the software."
Enterprise appeal: MG Siegler at TechCrunch gave the PlayBook a mixed review, focusing on the lack of apps and its "wonky" web browsing, but he praised RIM's decision to "make the PlayBook a completely different form factor and give it BlackBerry Bridge to appeal to corporate users."