Gas spike feeds inflation pain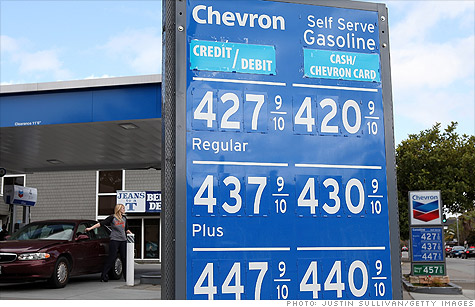 NEW YORK (CNNMoney) -- High gas prices caused inflation to rise at the fastest pace in more than a year in March.
The Consumer Price Index, the government's key inflation measure, rose 2.7% in March over year-earlier levels, according to Friday's report from the Labor Department. It was the biggest 12-month jump since December of 2009.
Meanwhile, so-called core-CPI, which strips out volatile food and energy prices and is considered a better long-term predictor of inflation, rose only 1.2% from a year ago, falling just short of forecasts.
While the core reading may have tempered inflation fears for some economists, it's no comfort for struggling consumers who are forking over a greater proportion of their disposable income on food and gas.
"Consumers are increasingly feeling the pinch of rising prices in part because food and gasoline are frequent purchases and price changes are easily detectable," said Jim Baird, chief investment strategist for Plante Moran Financial Advisors.
Gasoline was the major problem for consumers. Prices at the pump jumped 5.6% in March alone and are now 27.5% higher than a year ago.
Food prices jumped 0.8% in March -- the biggest one-month increase since July of 2008 -- leaving food prices 2.9% higher than a year ago.
The outlook for inflation

Overall prices jumped 0.5% in March, matching forecasts of economists surveyed by Briefing.com.
Economists, including those at the Federal Reserve, typically pay closer attention to core inflation readings. Numerous Fed officials have said they expect the increase in prices caused by higher food and gas prices to be transitory.
The core CPI reading is within the Fed's comfort zone, meaning it is unlikely to take steps to slow the economy in order to combat inflation. But the trend of rising price pressures outside of food and energy is still a concern to some economists.
"Today's report provides further evidence that prices across a broad range of goods and services are gradually beginning to rise," said Peter Newland, an economist with Barclays Capital, in a note to clients Friday. "Looking ahead, we believe that price pressures are gradually building and that the trend in core prices is firming."