Why people suck at taking care of gadgets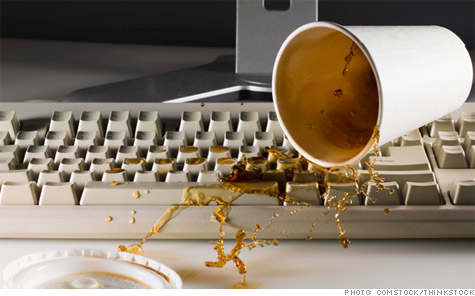 NEW YORK (CNNMoney) -- Almost half of all personal computers in the U.S. are infected with malware -- but a new study shows that 83% of people think their PCs are clean.
Most people don't perform routine maintenance on their computers and tech toys because it's too confusing or it's simply not a priority, according to an "IT IQ" survey released by Staples (SPLS, Fortune 500) earlier this month.
"Technology is complicated, and our tablets and laptops are always advancing," says Jim Cigliano, Staples' vice president of technology services. "People get busy or they get nervous, and they just want their computers to work right."
In fact, 56% of respondents who characterized themselves as "less comfortable" with technology said they feared they would do more harm than good if they tried to upgrade or fix their own PCs.
And those less confident respondents said they would rather visit the DMV or wait in bumper-to-bumper traffic than perform computer maintenance.
But even those who said they felt "comfortable" managing their machines fell prey to myths. Almost half mistakenly thought restarting their computer or running an antivirus program would fix a slow PC.
What to do: If your computer is slow, a RAM upgrade is the best hardware fix. Just $100 worth of memory can make a big difference, Staples' Cigliano says.
An occasional diagnostic check and tune-up can prolong the life of your PC.
"People have to remember that computers are machines -- their parts wear out like the tires on a car," says Arthur Zilberman, owner of Manhattan repair shop LaptopMD.
But just in case your computer goes kaput, it's best to back up your data to an external hard drive or other storage source at least once a week. Staple's survey showed that less than 40% of respondents did so weekly, even though 97% of them use their computers every day.
Nearly one-third of respondents said they have never backed up their computer, or did it less than once a year.
Zilberman warns that external hard drives can also fail, or be destroyed in a fire or a theft. He recommends backing up with a cloud computing service like Carbonite or Dropbox.
"We have people coming in crying every single day over losing term papers and photos," Zilberman says. "They pay thousands of dollars to try to retrieve their data. If everyone backed up, we'd have a lot less business."