Bonds don't freak out on S&P call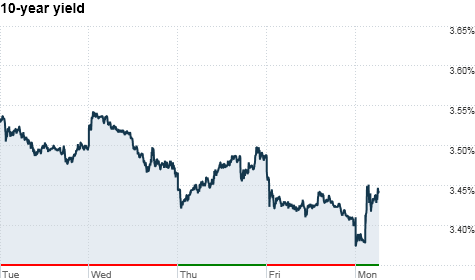 NEW YORK (CNNMoney) -- Treasury yields rose slightly Monday, after Standard & Poor's turned pessimistic about the chances of a near-term resolution of the deficit problems in the United States.
Early Monday, the ratings agency lowered its outlook for America's long-term debt to "negative" from "stable," based on uncertainty surrounding the nation's fiscal problems.
While S&P maintained the nation's current credit rating at "AAA/A-1+," a top-tier investment grade, the revised outlook was enough to spook the market.
Immediately following the news, stocks sunk and prices for the 10-year and 30-year Treasuries fell. The yield on the 10-year note rose to 3.44%, while the 30-year's yield rose to 4.52%. Treasury prices and yields move in opposite directions.
U.S. Treasuries are backed by the government and often considered a less risky bet in times of uncertainty, but the country's long-term deficit has recently brought their safety more into question.
"There's a high risk that S&P will cut the U.S. credit rating, and it all depends on whether Congress can cut the budget fast enough and big enough," said Guy LeBas, chief fixed income strategist at Janney Montgomery Scott. "It's a bit of a crapshoot at this point."
That said, bond traders are still confident the U.S. won't default on its debt. And some experts said that makes today's sell-off a good time to buy government bonds at a cheaper price.
"If the market is selling off because of this news, you should be buying!" Kevin Giddis, managing director of fixed income at Morgan Keegan, wrote in a note to investors.
"The U.S. will continue to do what it takes to make sure there is enough money, enough debt, and enough liquidity to ensure economic growth, while over time, reducing the deficit," he added.
Meanwhile, demand for shorter term bonds including the 2-year and 5-year notes continued to rise, boosted by renewed uncertainty about Europe's debt crisis. The 2-year yield fell to 0.67% and the 5-year yield fell to 2.1% in morning trading.