Why Schmidt might have to sell Google stake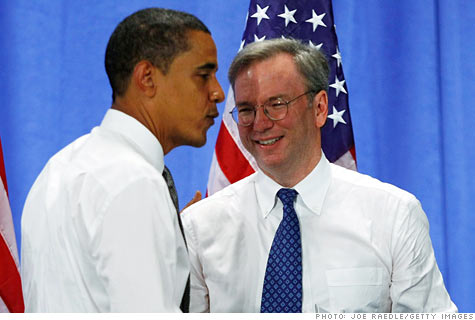 NEW YORK (CNNMoney) -- Google Chairman Eric Schmidt is rumored to be on the short-list for the Commerce Secretary job. But accepting that role is a multi-billion dollar decision.
To avoid conflict of interest, presidential appointees must go through a thorough vetting process by the agency the nominee is appointed to, the White House, and the Office of Government Ethics.
Conflicts could arise if any assets or securities that a nominee holds could benefit from their decision making. Those conflicts must be nullified for the appointee to be given the job.
That means if Schmidt were appointed, and his Google holdings were found to be an issue, he'd likely have to sell off his stake in the search giant.
Schmidt owns more than 9 million Google (GOOG, Fortune 500) shares in his portfolio. At current prices, that works out to nearly $5 billion.
Federal rules would require Schmidt to sell off his stake in 90 days. Market analysts said Google is such a highly traded stock that selling 9 million shares over three months would have no noticeable impact.
But it's unlikely Schmidt would want to sell everything off right away -- especially since the stock is still trading about 29% below its all-time high.
As a result, the law allows Schmidt to put his stock into a blind trust. Portfolio managers would gradually sell the stock off and replace it with securities that don't conflict with the Commerce Department's work, such as Treasuries, or broad index funds.
Schmidt would still face a potential conflict of interest, though, since the blind trust wouldn't be all that "blind."
"Putting it in a blind trust would be hopelessly ineffective," said Alan Morrison, professor at George Washington Law School. "It's the worst kind of fig leaf, because it's not 'blind' in any sense of the word. What's Schmidt going to say? 'Do I own Google? Really?'"
The Office of Government Ethics mandates that employees of the executive branch can't own more than $15,000 of a stock or asset that would conflict with their work. Going from $5 billion to $15,000 isn't going to happen in a day.
To get around that requirement, the OGE allows people in conflict to recuse themselves from certain activities. That means even after his Google shares are put in trust, Schmidt would still have to recuse himself if a conflict arises with Google.
The good news for Schmidt is that the Department of Commerce doesn't deal all that heavily in Google's businesses.
Schmidt would obviously never get a job at the Department of Justice, the Federal Trade Commission or the Federal Communications Commission, which constantly examine and regulate Google's activities.
The biggest potential conflict would be the Commerce Department's "privacy bill of rights" initiative, which encourages websites to voluntarily post simple notices that clearly state what personal information will be collected and what will be done with it. But experts say that's a very weak and dubious conflict.
The upside for Schmidt is that even if he is forced to get rid of his Google stock, he wouldn't have to pay capital gains taxes.
The OGE allows executive branch employees to defer tax burdens if they are required to get rid of their assets to avoid a conflict. The law says the tax deferral "aids in attracting and retaining highly qualified personnel in the executive branch."
Former Treasury Secretary Henry Paulson controversially took advantage of that law. Paulson, who was CEO of Goldman Sachs prior to joining the government, saved millions of dollars by putting his $700 million Goldman Sachs (GS, Fortune 500) stake into a blind trust.
Interestingly, Paulson's trust couldn't buy Treasuries, since being the Treasury secretary certainly would have made holding those assets conflict with his duties.
Schmidt would only need to pay capital gains taxes if he were to later sell the securities that the trust bought during his tenure as Commerce secretary.
So don't shed too many tears for Eric Schmidt. Yeah, he'd have to give up his Google stake, but he could save many tens of millions of dollars by doing it.