Intel revenue jumps to record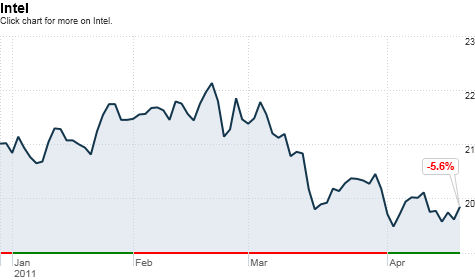 NEW YORK (CNNMoney) -- Intel Corp. posted quarterly earnings on Tuesday that blew past Wall Street's expectations and revenue that hit a record high.
Growth in the quarter was largely driven by Intel's PC sales, which account for the vast majority of the chipmaker's revenue.
The Santa Clara, Calif.-based chip giant logged earnings per share of 59 cents. Analysts polled by Thomson Reuters had expected earnings of 46 cents a share.
Intel (INTC, Fortune 500) said revenue rose 25% over the previous year to $12.9 billion, topping analysts' forecasts of $11.59 billion.
"The first-quarter revenue was an all-time record for Intel fueled by double digit annual revenue growth in every major product segment and across all geographies," Paul Otellini, Intel president and CEO, said in a statement.
The company's revenue guidance for the second quarter also exceeded expectations. While analysts are forecasting $11.9 billion in revenue, Intel said it now expects to log revenue of $12.8 billion in the quarter, plus or minus $500 million.
"These outstanding results, combined with our guidance for the second quarter, position us to achieve greater than 20 percent annual revenue growth," said Otellini.
Intel's gross margin in the first quarter was 61% -- in line with forecasts -- and the company said it expects its gross margin to remain at that level in the second quarter as well, plus or minus a couple percentage points.
The first quarter was a busy one for Intel. The company closed acquisitions of Infineon Wireless Solutions and security software provider McAfee Inc. --adding revenue of $496 million to the company's quarterly results.
Meanwhile, sales at Intel's PC division jumped 17% in the quarter, helped by strong demand in emerging markets and revenue at its data unit, which surged 32%. The company said it experienced double-digit growth in every major product sector and every world region in the quarter.
Despite the devastating earthquake in Japan, Intel's revenue there rose 11%. Otellini said on a call with analysts that the company didn't see any unusual changes to its backlog due to the earthquake.
In January, Intel posted the best fourth-quarter and full-year earnings in company history.
But then, the company warned that first-quarter revenue and gross margins would take a hit due to a design error of a new support chip that it estimated would cut revenue by $300 million to fix.
So investors were pleasantly surprised by the chipmaker's latest report. Shares of Intel jumped 5% in after-hours trading Tuesday, after rising more than 1% to close at $19.86 in regular trading.
However, there are still long-term issues surrounding the fate of Intel. The surge in mobile growth has raised concerns among some investors that companies like Intel, which is tied to PCs instead of mobile phones, are missing the boat. Since Intel's fate is linked to companies like Dell and HP, some analysts also worry that strong demand for Apple products will leave PC sales in the dust.
Others worry that startups like ARM Holdings (ARMH) may come along and steal Intel's thunder.
But Otellini was confident in continued demand for Intel's PC products, saying on the call that he expects PC growth in 2011 to remain in the double-digit range. He disagreed with reduced forecasts some analysts have been issuing and said many third-party estimates don't accurately reflect strong demand in emerging markets.
Intel released its results the same day as tech giant IBM (IBM, Fortune 500), which also logged better-than-expected earnings and raised its full-year outlook.
Texas Instruments (TXN, Fortune 500) posted results Monday that missed expectations, partly due to damage to its factories caused by the Japanese earthquake. But the company remained upbeat about demand in the personal computer market.