Mattel loses Bratz case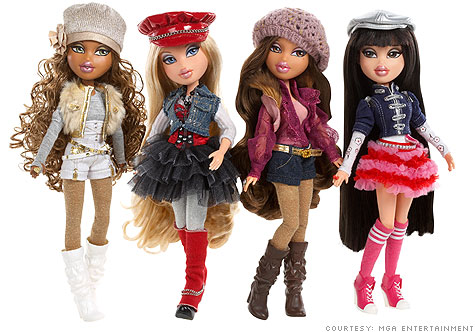 NEW YORK (CNNMoney) -- A federal jury ruled against Mattel Thursday, awarding damages to MGA Entertainment in the latest twist in a dispute over the ownership of Bratz, the most popular dolls since Barbie.
The jurors in a Santa Ana, Calif. court found Mattel does not own rights to the popular Bratz franchise, and that rival MGA did not steal the idea.
The two toymakers have been engaged in a running battle over who owns the lucrative doll line for the better part of a decade. Mattel argued that since the idea was developed by designer Carter Bryant while he was a Mattel employee, it owns the rights.
MGA argued that the language of Bryant's contract only covered work created within the scope of the job, and not work done during his own time or outside of his duties at the company.
Both sides have scored big wins in the past, but on Thursday MGA prevailed.
The jury found that Mattel's (MAT, Fortune 500) copyright claim on the franchise was invalid, and that MGA had not stolen trade secrets from Mattel.
Instead, the jurors awarded MGA $88.5 million in damages, finding that Mattel was the party that had stolen trade secrets. MGA had accused Mattel of stealing 114 of them. The jury awarded damages in 26 instances.
"We are grateful for a hard-working and smart jury," MGA CEO Isaac Larian said in an email to CNNMoney.
"This is a victory for all the hard-working entrepreneurs and small companies who get bullied unfairly by large multinational corporations with deep pockets," he said.
Mattel said it would challenge the decision.
"MGA's claims against us were simply not supported by the evidence at trial. We will ask the court to set aside the verdict. Once the judge rules on our motions, we will evaluate our next steps," Mattel general counsel Robert Normile said in a statement.
The jury did find MGA at fault on one count, saying the company did in fact intentionally interfere with Bryan's contract with Mattel.
Last year, the 9th U.S. Circuit Court of Appeals in San Francisco dismissed a December 2008 ruling that gave Mattel ownership rights.