Amazon EC2 outage downs Reddit, Quora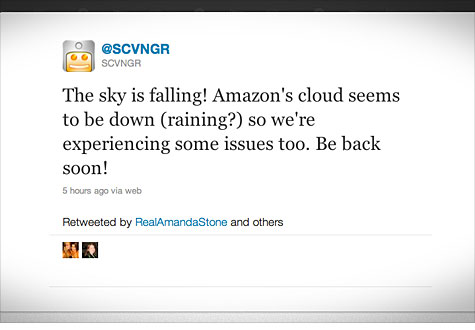 NEW YORK (CNNMoney) -- A rare and major outage of Amazon's cloud-based Web service on Thursday took down a plethora of other online sites, including Reddit, HootSuite, Foursquare and Quora.
The outages began Thursday morning just before 5 a.m. ET and were still ongoing more than 24 hours later. In a series of running updates on its Web services "Health Dashboard," Amazon described its efforts to recover from the cascade of problems kicked off by an early-morning "networking event."
Amazon (AMZN, Fortune 500) hosts many major websites on its web servers through a service called EC2. The "elastic" infrastructure model is designed to scale up automatically to handle giant traffic spikes -- the kind Amazon gets every year during its December e-commerce rush.
Thursday's crash happened at Amazon's northern Virginia data center, one of five global sites that underpin EC2. In its status log, Amazon said that the networking glitch caused many of its storage volumes to create new backups of themselves. That filled up Amazon's available storage capacity and kicked off a series of connectivity problems.
By late Thursday, Amazon had most of its system running normally, but lingering connectivity problems remained.
"It's taking us longer than we anticipated to add capacity to this fleet," Amazon said around 2 a.m. ET Friday. "But, we can assure you that the team is working this hard and will do so as long as it takes to get this resolved."
Thousands of customers hitch a ride on Amazon's cloud, renting space on its servers. Some of them went down Thursday in the wake of Amazon's outage.
Who was crashed: On Thursday, Q&A site Quora posted on its homepage: "We'll be back shortly, we hope. Sorry - it sucks for us too. We'd point fingers, but we wouldn't be where we are today without EC2." The site was back up and running by early Friday.
News aggregator Reddit had resumed functionality by midday Thursday, but it still noted on its homepage that "Amazon is experiencing a degradation...We are still waiting on them to get to our volumes."
Foursquare suffered some glitches earlier in the day, but its site seemed to be functioning normally by early Thursday afternoon.
Another location-based service, SCVNGR, tweeted: "The sky is falling! Amazon's cloud seems to be down (raining?) so we're experiencing some issues too. Be back soon!"
Popular Twitter client HootSuite posted its avian-inspired "homepage down" message: "Owls need a break sometimes too. We'll be back in action shortly -- in the meantime go outside and flap your arms around, you may find that flying ain't very easy."
Jason Glassberg, co-founder of security outfit Casaba LLC, called the issue "a big ol' black eye" for Amazon.
"Reliability is probably the No. 1 concern with cloud services," he said. "Amazon has worked long and hard to convince folks that their services were robust. This does not help the cause."