Kate Middleton 'Fascinator' hats a hit in the U.S.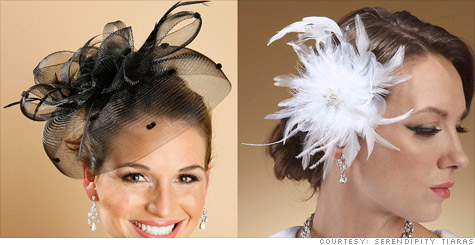 NEW YORK (CNNMoney) -- Prince William's bride-to-be Kate Middleton, whose sartorial style will be closely scrutinized by fashionistas once she's officially a princess, is already getting credit for bringing one style stateside -- the precariously-perched feathered "fascinator."
The fascinator is a particularly ornate hair accessory that can feature feathers, beads, flowers and other fancy trimmings.
Kate seems to favor the feathered variety and has been photographed wearing a variety of them.
Fascination over the Fascinator is growing in the United States, with Google (GOOG, Fortune 500) searches up 50% for this style of hat since January.
Fascinator sales have soared recently at Cedar Park, Texas-based Serendipity Tiaras, an online seller and supplier of bridal accessories such as veils, broaches, tiaras and fascinators to bridal boutiques.
"Orders are coming in from all over but most are from California, New York, New Jersey and Pennsylvania," said Serendipity Tiaras owner Laura Lyons.
In the United States, brides tend to prefer headbands, veils and tiaras. So Lyons was surprised with the jump in fascinator orders just as the summer wedding season gets underway.
In fact, at Serendipity Tiaras, fascinator sales have trumped orders for tiaras, considered to be the traditional wedding headpiece, she said.
"Orders are coming in for all kinds of feathered fascinators. Customers also want fascinators with a small spray of flowers, tulle or with a hat," she said.
Lyons said prices for her China-made fascinators range from $35 to $100. As demand heats up, Lyons said some of her styles are on backorder but promises to fulfill each order as quickly as she can.
"We definitely expect demand to go up even more," said Lyons. Interestingly, she's also getting several overseas orders, including from Malta, Australia, Ireland and from Kate's homeland of the United Kingdom.
David's Bridal, the nation's largest seller of bridal gowns and accessories used to sell fascinators but only in select stores.
"Demand is up now so we're making sure we have more of them in stock and we now sell them in all of our stores," said Dan Rentillo, the company's design director.
Fascinator prices at David's Bridal range from under $50 to over a $100 for styles with tulle and a hat.
"We are capitalizing on the sudden popularity of fascinators," said Rentillo.
The fascinator isn't just a wedding accessory, said Rentillo. "Kate has worn the style on several different occasions. She's showing women that this is a great accessory that can change up your look."
In the United States, Rentillo said he can see fascinators popping up at cocktail parties and other events.
"In the past, the fascinator was perceived to be an older look," Rentillo said.
"Kate, who is such a style icon, is showing that younger people can pull it off and have fun with it."