7% of Americans subscribe to Netflix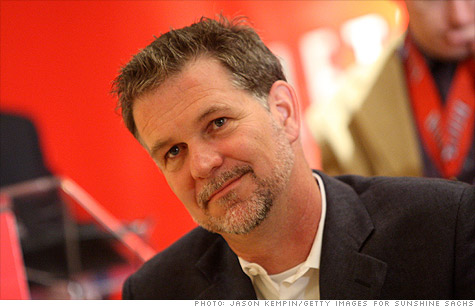 NEW YORK (CNNMoney) -- Netflix knocked over a new milestone Monday: It now has more subscribers than the largest cable TV operator in the U.S.
Netflix's global subscriber base grew almost 70% over the past year, to 23.6 million users. With that audience, it dethroned Comcast (CMCSA, Fortune 500) as the country's biggest provider of subscription video content. More than 7% of Americans now subscribe to Netflix.
Those details came out Monday in Netflix's (NFLX) first-quarter report, in which the company reported earnings of of $60.2 million, or $1.11 a share. That's up from $32 million, or 59 cents a share, a year ago.
Revenue rose 46% to $719 million. Both figures topped Wall Street estimates, but shares fell 2.5% in after-hours trade on light forecasts for the second quarter.
Netflix said it expects earnings of 93 cents to $1.15 a share for the second quarter, lower than analysts' forecasts.
When you're a giant, growth gets harder.
Netflix said in its release that it expects subscriber growth to continue at a rapid clip for the rest of the year, but it warned that year-ago comparisons will get tougher in the coming quarters.
The release also noted the emergence of new, competing services Hulu Plus Amazon (AMZN, Fortune 500) Prime.
More content: Netflix is hoping to combat increased competition with more unique content. Last month, the company announced it had bought its first original show: "House of Cards," featuring Kevin Spacey.
"This represents slightly greater creative risk than we've taken in the past, but we think it's reasonable given the popularity of the original BBC show," Netflix said Monday in a "letter to shareholders" released alongside its earnings report.
Netflix will consider the buy a success "if 'House of Cards' is popular enough on Netflix so that the fee we've paid is in line with that of other equally popular content on Netflix at the time," Hastings wrote in the letter.
The company said it hopes to "license two or three similar, but smaller deals" in the future.
Netflix has also brokered deals with networks and studios. In its earnings release, the company admitted its recent deal with CBS "includes only a few on-air shows at present" -- but it also makes Netflix the only online subscription service to offer shows from all four broadcast networks.
International concerns: Netflix launched in Canada late last year, and it ended the first quarter of 2011 with about 800,000 Canadian subscribers -- lower than the company had forecast.
"We are still learning the seasonality curve and nuances specific to Canada," Netflix said in its release.
The company had previously said it expected $50 million in operating losses in the second half of the year for the international sector. Now, it forecasts $50 to $70 million in losses -- "which we are comfortable with given the size of the opportunity."
On a post-earnings conference call, many analysts' questions revolved around the situation in Canada. Hastings shrugged off most of the queries, saying "it takes time" to develop accurate data and forecast correctly in a new region.
Hastings also said developing apps for Google's (GOOG, Fortune 500) Android operating system is "a big priority," but he wouldn't comment further on a timeline.