Affordable rental homes hard to find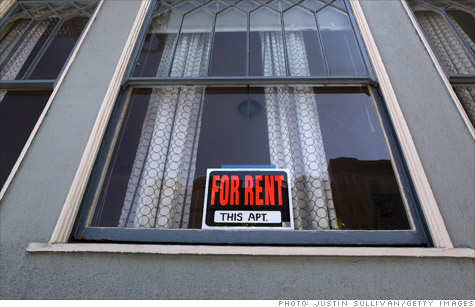 NEW YORK (CNNMoney) -- Can't afford to buy a home? You might have a tough time finding a cheap place to rent too.
A record number of renters are spending more than half their income on housing, according to a report released Tuesday by the Harvard Joint Center for Housing Studies. And more middle-class folks are feeling the pinch.
One in four renters -- or about 10.1 million households -- spend half their paychecks on rent and utilities, the study found. And the number of middle-income renters in this predicament more than doubled to 7.5% during the last decade.
This is due in large part to rising housing costs and weak income gains, as well as a flood of new renters who either lost their homes in the foreclosure crisis or can't afford to buy now.
"In the last decade, rental housing affordability problems went through the roof," said Eric Belsky, managing director of the Harvard Joint Center for Housing Studies. "And these affordability problems are marching up the income scale."
Another 26.2% spent between 30% and 50% of their income on housing. One in five of those in middle-income quintile are paying that much for rent, up from 9% a decade ago. The middle-income quintile make between $42,000 and $62,900.
The center defines "affordable" as less than 30% of household income.
Making matters worse, the supply of affordable rental housing has been shrinking. Nearly 12% of low-cost market-rate rentals that existed in 1999 were demolished or lost from the housing stock by 2009. And there is little new multi-family buildings being built in the wake of the housing crisis.
This dwindling supply clashes with the increased demand. An additional four million people were renting in 2010, compared to 2005, Belsky said.