No inflation unless you eat, drink, drive or fly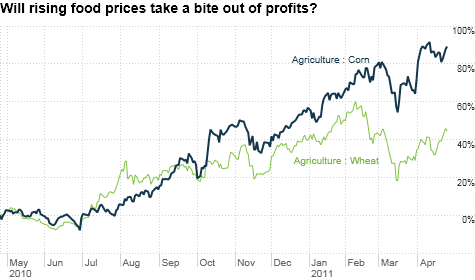 NEW YORK (CNNMoney) -- Forget Atkins, South Beach and Weight Watchers. If you want to lose weight, just follow my patented technique: I call it the cheapskate diet.
Avoid all of the food and beverage companies that are raising prices and you'll be shedding pounds in no time. Of course, you may not be eating or drinking much of anything. But that's another story.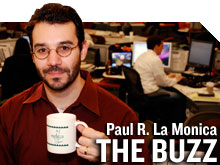 McDonald's (MCD, Fortune 500), Hershey (HSY, Fortune 500) and Coca-Cola (KO, Fortune 500) all announced new price hikes or reiterated previous increases in their latest quarterly earnings reports over the past few days. The reason is obvious. Commodities are running amok.
It's costing restaurants and food makers a lot more money to produce or buy food as the price of cattle, wheat, sugar, corn and just about every other agricultural commodity has surged in the past year.
And even though the Federal Reserve may think that higher commodity costs are "transitory" -- which is the econobabble way of saying "Don't worry about it!" -- companies aren't so sure.
That could be bad news for consumers, who are already coping with soaring gasoline prices.
Along those lines, airlines are also boosting prices to deal with surging energy costs. Delta (DAL, Fortune 500), which reported a quarterly loss Tuesday, was still able to post an increase in sales thanks to "domestic fare increases and international fare surcharges as a means of passing through fuel costs to its customers."
That pleased investors. Shares of Delta skyrocketed 8%. Shares of rival US Airways (LCC, Fortune 500) rose 5% after the airline also reported higher revenue (despite losing money) thanks to "a series of fare increases."
But higher prices may not help the Cokes, Mickey D's and Deltas of the world that much longer. If consumers get scared off by rising prices, the fact that profit margins may remain stable may be small consolation to investors if demand starts to wane.
"Overall prices are going up faster than income growth. For a period of time, consumers can absorb that through lower savings or taking on debt," said Keith Hembre, chief economist with First American Funds in Minneapolis. "But higher prices should start leading to slower growth rates for the economy."
It's no wonder then that some of these companies also seem to be going out of their way to reassure shareholders and consumers that prices are not heading dramatically higher. Companies realize they are in a bind.
"It's impossible for corporations to pass on all their input costs to consumers," said John Norris, managing director with Oakworth Capital Bank in Birmingham, Ala . "If they could, nobody would ever go out of business."
In its conference call last week, McDonald's CFO Peter Bensen told analysts that the fast food chain hopes "to offset some but not necessarily all of the inflationary pressures with price increases."
He added that the company is choosing "to take smaller increases over the course of the year to balance the impact on the consumer and our traffic."
Coca-Cola was more cryptic. In a press release that made me wonder if Ben Bernanke (or worse, noted master of obfuscation Alan Greenspan) was the new Coke CEO, the soft drink giant said that "we expect to see further price realization over the course of the year to help offset a rising cost environment."
Translation. High-fructose corn syrup costs more so that means your bottle of Sprite will too.
Still, Norris said that higher prices for food and gas probably "won't stop the economy dead in its tracks." But he thinks higher commodity prices could do damage to higher-end retailers and companies that don't sell basic, day-to-day items you can't live without.
"Household names that provide the stuff you need to have are probably going to be okay," he said. "They have more pricing power than a company like Coach or Tiffany that sells luxury items, which are more cyclical."
However, consumers and investors probably have to get used to rising prices. Experts said that the weakening dollar is partly to blame for high fuel and food costs -- especially for products that come from overseas. And the dollar may fall further before finally bouncing back.
"A weakening dollar is not going to improve matters much. It exacerbates inflation problems," said Michael Woolfolk, senior currency strategist at Bank of New York Mellon. "We are an economy that is highly dependent on imports, so without a doubt the weak dollar will push prices higher."
Of course, this is precisely what the Fed wants. Bernanke & Co. are making the calculated gamble that cheap money will keep the economy and financial system afloat.
It has worked so far but the byproduct has been an anemic dollar and higher commodity prices. And if the Fed keeps interest rates low much longer and continues to buy bonds, that could mean food and energy prices will climb even higher.
"The increase in commodity prices is starting to look more pervasive. This is only transitory if the Fed doesn't keep feeding the fire," Hembre said.
The opinions expressed in this commentary are solely those of Paul R. La Monica. Other than Time Warner, the parent of CNNMoney, and Abbott Laboratories, La Monica does not own positions in any individual stocks.