Russell Simmons: Getting rich is so simple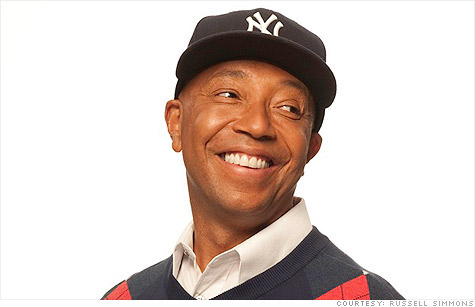 NEW YORK (CNNMoney) -- Russell Simmons, business mogul, activist and best-selling author, has a message for small business owners. He's a small business owner, too, and getting rich is a lot easier than people think.
That might be hard for most to believe. Simmons, the founder of Def Jam Recordings and the Phat Farm clothing empire, successfully sold those companies for more than a hundred million dollars apiece years ago. He now heads up Rush Communications, a holding company for his financial, media and fashion businesses.
The mega entrepreneur's net worth is reportedly $340 million.
Despite this, Simmons still views his current businesses as small. UniRush Financial, Inc. offers financial products, such as prepaid debit cards, aimed at the low-income and middle-income market. His Simmons Lathan Media Group is a media firm focusing on hip-hop and urban content. Simmons American Design Group is a company focusing on fashion for Macy's, Wal-Mart and retail trading group Li & Fung.
They are nowhere near the size of Def Jam or Phat Farm, said Simmons. "I am still trying to grow them."
And he has no doubt that these companies will thrive. In his latest book "Super Rich: A Guide to Having It All," Simmons says that a positive attitude, passion and openness to wealth -- both spiritual and material -- are some of the qualities needed for entrepreneurial success.
Small business owners be warned: This is not your conventional how-to small business manual.
"Super Rich" is not a book about business plans, raising capital or restructuring business models during recessionary times, Simmons said. It's a guide to "spiritual enlightenment," which is the surest path to wealth, he said.
Some reviewers have knocked the book for being light on business advice and long on metaphysical talk.
Simmons dismissed the criticism, adding that entrepreneurs are always approaching him at book signings to thank him for the advice in the book.
And for people who don't think "Super Rich" is good? "Whatever," Simmons said, shrugging his shoulders. "Do you, baby."
Simmons offered the following advice for all entrepreneurs: young, old, big and small.
• Do a business you believe in: "I'm an entrepreneur who is moved by passion, but not numbers. I am constantly being approached with business ideas that will make money, but if I don't believe in the business, I won't do it," said Simmons.
• Be passionate about what you do.
• "Stay on your hustle," said Simmons. "Don't quit."
• Give away your business products and services for free. "If you are a good giver, you will be great getter," Simmons said. "The less you need, the more you attract."
• Find businesses that lift people up.
• Don't worry about the results. Focusing on results distracts the entrepreneur, from building his or her business, said Simmons.
• "Quiet the mind," said Simmons. The entrepreneur who has a still mind is the entrepreneur who can do anything, he said.