Green cars are ready, car buyers aren't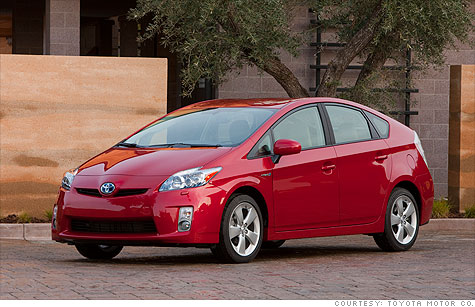 NEW YORK (CNNMoney) -- Despite all the hype around electric and hybrid cars -- and a rapid increase in the number of available models -- most car shoppers still aren't ready to buy, according to a new survey.
When it comes to hybrid cars, the problem is simple... price. Car shoppers want to do their part to help the environment, as long as their part doesn't involve paying more. Or, in the case of plug-in cars, changing their driving habits.
"The bottom line is that most consumers want to be green, but not if there is a significant personal cost to them," said Mike VanNieuwkuyk, director of global vehicle research at J.D. Power and Associates.
Hybrid and plug-in cars are expected to make up less than 10% of new car sales through 2016, based on data from consumer surveys and other market research, J.D. Power said in an announcement released Wednesday.
Most car shoppers who are considering alternative-fuel vehicles simply want to save money on gasoline, according to the 2011 U.S. Green Automotive Study by J.D. Power and Associates.
Among those who said they would consider a gasoline/electric hybrid car for their next purchase, gas savings was the cited as a reason by 75% while the environmental benefits were a factor for only about half.
Especially as federal tax benefits for hybrids phase out, hybrid cars are seen as too expensive, according to the J.D. Power survey.
Carmakers are finding ways to close that cost gap, however. Ford (F, Fortune 500) Motor Co.'s Lincoln MKZ Hybrid costs the same as the non-hybrid version and General Motors' (GM) Buick division will soon begin selling hybrid versions of some of its cars that also cost the same or less than non-hybrid versions.
Ford's strategy with the MKZ hybrid seems to be working, according to J.D. Power. The hybrid makes up 21% of MKZ sales but just 6% of Fusion sales. (With the Fusion, there's a less expensive 4-cylinder gas version available.)
Purely electric plug-in cars also face price issues but, for now, limited driving range is a bigger issue for most shoppers, according to the survey. Largely for this reason, plug-in cars have the lowest levels of consideration of the three major alternative fuel options.
The survey also asked about diesel-powered cars, which are more fuel efficient than gasoline cars. Diesel technology is hampered by concerns over the availability of diesel fuel as well as its cost. Currently, diesel costs about 25 cents a gallon more than regular gasoline. Diesel cars themselves also tend to be more expensive than gasoline-powered models.
Diesel also has a serious reputation problem. Car shoppers still remember the smelly, dirty diesel engines of the past but probably don't even notice modern diesel cars that sound and smell almost exactly like their gasoline-powered counterparts.
The J.D. Power study was based mostly on a survey of 4,000 people who said they planned to buy a new car within the next one to five years.
By the end of next year, every major auto manufacturer expects to have some kind of plug-in car on the market. Industry analysts at J.D. Power and Associates expect 159 hybrid and electric car models to hit the market by the end of 2016 compared to just 31 in 2009.