Dow, S&P 500 at highest levels since 2008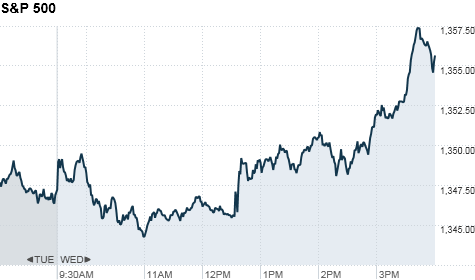 NEW YORK (CNNMoney) -- It was a 'no news is good news' kind of day for the stock market.
After waiting on the sidelines most of Wednesday in anticipation of the Federal Reserve's statement and Fed chief Ben Bernanke's first press conference, investors waded back in.
As expected, the central bank said it would keep interest rates low and end its $600 billion Treasury buying program in June, while Bernanke reassured investors that the nation's economic recovery is on track.
"The Fed statement and Bernanke's speech didn't offer any surprises, and that's good for the market because Wall Street hates uncertainty," said Doug Roberts, chief investment officer at Channel Capital Research and author of Follow the Fed to Investment Success.
The lack of news pushed the Dow Jones industrial average (INDU) up 96 points, or 0.8%. The S&P 500 (SPX) rose 8 points, or 0.6%, and the Nasdaq Composite (COMP) added 22 points, or 0.8%.
The gains put all three indexes at fresh multi-year highs. The Dow climbed to its highest level since May 2008, while the S&P 500 rose to its highest level since June 2008. The Nasdaq pushed to its highest level since December 2000.
With the Fed's meeting on top of this week's onslaught of corporate earnings and economic reports, "investors have a lot to digest," said Fred Dickson, chief market strategist at D.A. Davidson & Co.
Bernanke said the Fed would end its bond-buying program "without tapering," and that there were no plans to do more. "The trade-offs are getting less attractive," he said. Bernanke also noted that the central bank's balance sheet would remain constant after QE2 ends.
On Tuesday, U.S. stocks finished at their highest levels in three years.
Companies: GE's (GE, Fortune 500) stock jumped 2.7%, leading the Dow's gainers. At an annual shareholder's meeting, the conglomerate's CFO said the company's profit growth over the next few years will be the fastest it has seen in a decade.
Shares of Merck (MRK, Fortune 500) rose 1.6% after the Dow component got the green light from its board for a $5 billion share buyback program.
Shares of Boeing (BA, Fortune 500) rose 0.8% after the aeronautics company reported a 13% increase in its first-quarter profit.
Amazon.com (AMZN, Fortune 500)'s stock was the biggest winner on the S&P 500 and Nasdaq, with shares rising 8%, even though the online merchant reported first-quarter earnings that fell by one-third compared to a year earlier and sharply missed Wall Street forecasts.
For-profit educator DeVry's (DV) stock was also a strong performer on the S&P 500 after popping more than 7%. Late Tuesday, DeVry reported a 14% rise in its quarterly profit
Meanwhile, shares of Broadcom (BRCM, Fortune 500) sank 12.3% after the semiconductor company issued a disappointing outlook. Broadcom was the worst performing company in the S&P 500 and Nasdaq.
After Tuesday's close, Starbucks (SBUX, Fortune 500) posted quarterly results roughly in line with expectations, but the coffee giant disappointed investors with a lower-than-expected outlook. Shares slipped 2% in after-hours trading.
Economy: The government said new orders for durable goods increased 2.5% in March, after a 0.7% rise the month before. Economists surveyed by Briefing.com expect an increase of 1.8% in March.
World markets: European stocks closed mixed. The DAX in Germany rose 0.7%, France's CAC 40 gained 0.7%, while Britain's FTSE 100 ended slightly lower.
Asian markets also ended mixed. The Shanghai Composite and the Hang Seng in Hong Kong both fell about 0.5%, while Japan's Nikkei rallied 1.4%.
Standard & Poor's warned that Japan's government could face a downgrade of its credit rating within the next few years, as the nation's economy recovers from the March 11 earthquake and tsunami.
S&P lowered its outlook on Japan's long-term debt to "negative" from "stable," saying the government will likely bear most of the cost of rebuilding. The ongoing struggle to contain a damaged nuclear power plant in Japan makes the outlook even more uncertain, the agency said.
Currencies and commodities: The dollar fell against the euro and the British pound, but rose versus the Japanese yen.
Oil for June delivery gained 55 cents to settle at $112.76 a barrel.
Gold futures for June delivery rose $13.60 to settle at $1,517.10 an ounce.
Bonds: The price on the benchmark 10-year U.S. Treasury fell, with the yield rising to 3.37% from Tuesday's yield of 3.32%.