Chicago: City of the big gas prices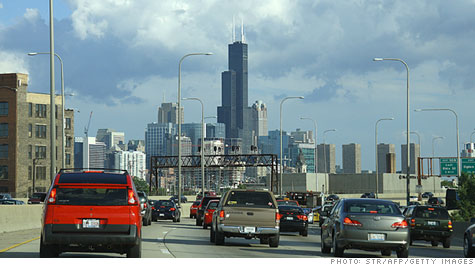 NEW YORK (CNNMoney) -- Chicago is not your kind of town when you pull into a local gas station.
Drivers in Chicago pay more for gas than they do in any other major metropolis in the continental United States. Analysts say that's due largely to a perfect storm of federal, state and local taxes.
The average price for a gallon of gas in Chicago was $4.32 a gallon on Tuesday, according to data from price tracker gasbuddy.com. That's more than what drivers pay in sprawling Los Angeles, where gas averaged $4.22 a gallon, and crowded New York City, where it's $4.20 a gallon.
Indeed, the only major U.S. city with higher prices is Honolulu, where gas must be imported from the mainland or from refiners on other Hawaiian islands. The average price in America's 57th largest city was $4.44 a gallon.
Gas prices have soared this year, driven higher across America as global oil prices spike on worries about political instability in the Middle East and lost supply from war-torn Libya.
Nationwide, gas prices average about $3.87 a gallon, up 26% from $3.07 at the beginning of the year, according to motorist group AAA.
But prices in Chicago, the nation's third-largest city, are being inflated by a litany of taxes that add an estimated 60 cents per gallon to the retail price, according to Dave Sykuta, director of the Illinois Petroleum Council, an industry group.
"Even when prices are lower, Chicago is always in the top three," he said. "And that's because of the taxes."
Just as in the other 49 states, drivers in Illinois are subject to a federal excise tax of 18.4 cents a gallon for gasoline.
In addition, most states have an excise tax on gasoline, which ranges from a low of 4 cents a gallon in Florida, to as much as 35 cents in California. In Illinois, the excise gas tax is 19 cents a gallon.
Illinois is one of a few states where sales tax also applies to purchases of gasoline. That means there's an additional 6.5% tacked on to the price per gallon.
On the local level, analysts say Chicago may be the only major city that imposes a flat tax, 5 cents a gallon, on the sale of vehicle fuel to a retailer doing business in the city. That's on top of a 6-cent-per-gallon tax levied by Cook County.
Lastly, as most states do, Illinois slaps a small tax on gas stored underground to help pay for the environmental impact.
"Add it all up at today's prices, and the privilege of living in Chicago costs you 50 to 60 cents a gallon," said Sykuta.
Illinois officials say taxes are not solely to blame for the recent run-up in the price of gas in Chicago.
Susan Hofer, a spokeswoman for the Illinois Department of Revenue, said the state fuel tax hasn't changed in decades, while the gas tax charged by Cook County actually dropped last year.
"The high price of gas can be attributed to a lot of things, but not taxes that haven't changed in 20 years," she said. "It's a nice excuse, but it's just not true."
Hofer said gas prices in Illinois have been pushed higher recently due to broken pipelines in the state and in neighboring Michigan. In general, she added, gas prices are higher in Illinois because crude oil must be shipped overland to reach the state, as opposed to California and New York, where oil imports come by sea.
"The price of gas is extremely volatile and very little of the cost is taxes," she said.
Tom Kloza, chief analyst at the Oil Price Information Service, said there are also some seasonal factors at play.
He said refiners located in the Great Lakes region have been shut down recently as they prepare to make the cleaner blends of gas that the state requires during the summer months.
That has squeezed refining margins and put upward pressure on gas prices across the Midwest.
But in Chicago, said Kloza, "it's mostly the taxes."