Federal Reserve stays its course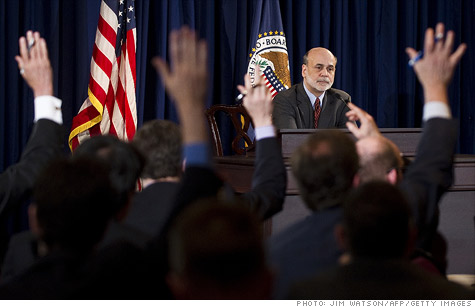 NEW YORK (CNNMoney) -- Appearing before the press Wednesday, Federal Reserve Chairman Ben Bernanke defended the Fed's policies, while acknowledging continued weak spots in the economy.

"We have done extraordinary things in order to try to help this economy recover," Bernanke told reporters.

Earlier in the day, the Fed released its scheduled policy statement, showing no change in monetary policy.
"The economic recovery is proceeding at a moderate pace," the Fed said, a slight change from the Fed's March statement that described the economic recovery as being "on a firmer footing."

Since the Fed's March meeting, weakness in the housing sector has continued, as have gradual improvements in the job market, Bernanke said.
Also on Wednesday, the Fed released its updated economic forecast, lowering its forecast for economic growth and inflation, while improving its outlook on unemployment. But Bernanke conceded the labor market is still not in good shape.

The Fed also said that it will continue its efforts to stimulate the economy, by keeping interest rates low for an "extended period," reinvesting the interest earned on its current asset holdings and buying up to $600 billion in long-term Treasuries through the end of June.
The new round of Treasury purchases -- known as the second round of quantitative easing or QE2 -- have come under criticism by economists, and even some Fed officials, who are worried about inflation.
They fear the Fed's easy-money policies are adding fuel to the fire, as commodity prices -- oil in particular -- rise, and the dollar falls, threatening the purchasing power of American businesses and consumers.
But while QE2 will continue, Bernanke hinted that additional quantitative easing is unlikely, because it would risk tipping the scale to a point where inflation could become a problem, and weaken job growth.
"It is not clear that we can get substantial improvements in payrolls without some additional inflation risk," he said.
But for now, the Fed chairman asserted again that he still thinks inflation is likely to be "transitory." The central bank focuses on core inflation, which strips out volatile food and energy prices -- and in those terms, inflation is still well below the Fed's comfort zone of 2%.
"Inflation has picked up in recent months, but longer-term inflation expectations have remained stable and measures of underlying inflation are still subdued," the Fed statement said.
For months, Bernanke has publicly stated that he doesn't see underlying inflation as a threat to the economic recovery. Wages aren't rising, he says, and that's keeping inflation measures subdued.
Bernanke repeated that viewpoint in his unprecedented appearance before the media Wednesday afternoon.
"Headline inflation is at least temporarily higher," Bernanke said. "Our expectation is that inflation will come down toward a more normal level. But we'll be watching that carefully."
The Fed's revised economic outlook showed that overall prices are expected to jump 2.1% to 2.8% this year, significantly more than the 1.3% to 1.7% jump originally forecast. The Fed also expects so-called core inflation, which strips out food and energy prices, to be higher than previously expected.
In addition, the Fed said gross domestic product, the broadest measure of the nation's economic health, is projected to grow between 3.1% to 3.3% in 2011, down from the earlier estimate of between 3.4% and 3.9%.

When asked about high unemployment, Bernanke said controlling prices would be essential for getting the job market going.
"If we are going to have success in creating a long-run sustainable recovery with lots of job growth, we have to keep inflation under control," Bernanke said.
The Fed has lowered its outlook on the unemployment rate for the full year to between 8.4% and 8.7%, down from earlier expectations that it would remain in the 8.8% to 9.0% range. Unemployment has fallen sharply since January and stood at 8.8% in March.
Wednesday's press conference is part of the Fed's efforts to make the institution more transparent and better communicate its goals to the public. Its credibility has recently been questioned, in the wake of the worst recession since the Great Depression, and mixed messages coming from Fed officials in the last few months have not helped.
As Fed chairman, Bernanke has appeared on "60 Minutes" twice and given two press conferences -- including one earlier this year. But until Wednesday, the head of the Fed has never taken questions from the media immediately following monetary policy decisions.
It seemed to go off without a hitch. Stocks and bond yields both continued rising.
Bernanke at first appeared slightly nervous, but later seemed his normal self and even joked with reporters a couple times. Asked by a CBS reporter about his feelings about the "historic" first press conference, Bernanke quipped, "Thanks Mom."
"We thought it was a natural next step," he added. "I personally, have always been a big believer in providing as much information as you can to help the public understand what you're doing."
The Fed has kept interest rates at historic lows since December 2008. It first began buying bonds under QE2 in November of 2010.
In its first round of quantitative easing, the Fed bought $1.7 trillion in Treasuries and mortgage-backed securities between December 2008 and March 2010. Bernanke credits that first round of stimulus with ending the "economic free fall" of the recession in 2008.