Where Kate Middleton will sleep before the royal wedding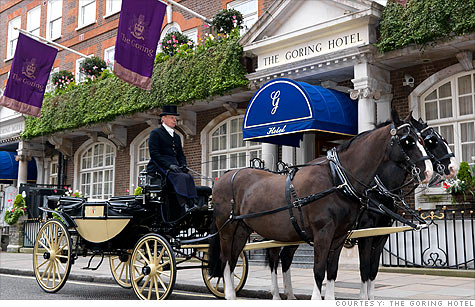 LONDON (CNNMoney) -- Cat fights between the bridesmaids? Cold feet for the royal bride? Fashion emergency involving that much-speculated-about dress?
Whatever happens in the final hours before the royal nuptials, Kate Middleton is counting on the Goring Hotel to forever hold its peace.
The staid hotel where Prince William's bride-to-be is spending her last night as a singleton and commoner is notable for its utter Britishness, from its wood-paneled interiors to its endearing old values, including a disposition for discretion.
Plenty in Britain are bemoaning the economic impact of the royal wedding, but London's hotels are enjoying brisk business, and the small, family-owned Goring may be the best positioned to benefit from the pomp and circumstance.
With the royal ceremony expected to attract an online and TV audience of an estimated 2 billion, the world's attention will be trained on the Goring as Kate and her dad leave the hotel for Westminster Abbey precisely at 10:51 a.m. on April 29.
The last-of-its-kind hotel, which has remained in family hands since Otto Richard Goring, better known as O.R., opened it in 1910, tends to attract foreign dignitaries, politicians and an upper-crust clientele who prefer to stay out of the limelight.
"It's like something out of early 20th century or early 19th century Britain. It's very traditional with old-fashioned standards which makes it stand out," said Adam Raphael, editor of the Good Hotel Guide, an independent hotel guide.
The Middletons are staying at the Goring the night before the big day, according to Clarence House, Prince Charles's office, which is handling the wedding arrangements, and British media have widely reported that Kate will be occupying a recently renovated top-floor suite.
The so-called Royal Suite, as the Goring called it last year when it announced details of its revamp, is lined in opulent silk wall coverings, holds a baby grand piano and has French windows which open onto a balcony overlooking the hotel's private garden.
That Kate and her family are staying at the hotel before the wedding is "obviously a coup," said Miles Quest of the British Hospitality Association. "It's huge for them," he said.
At the same time, the hotel is no stranger to royalty, and having Kate, a queen-in-waiting, stay is probably a bit "old hat" for them, he noted.
The 101-year-old hotel, tucked away on a side street in well-heeled Belgravia, has a long association with the royal family. Queen Mary, the wife of George V, frequently had afternoon tea at the hotel, and the queen mother's last outing before her death in 2002 was to the Goring.
When Buckingham Palace has more guests than it can accommodate, it frequently turns to the 69-room Goring to handle overspill. The hotel effectively became an annex for the palace when Queen Elizabeth II was crowned in 1953.
Even when there's room at Buckingham Palace, some royal visitors prefer the Goring. (When O.R. Goring first opened the hotel, its big selling point was that each room offered a private bathroom, unlike the palace.)
These days, the low-profile hotel distinguishes itself with its attention to detail. George Goring, the third in the family to run the hotel, is said to have slept in every bedroom, according to Raphael. That sort of personal attention to detail is what gives it real character and makes it stand out, Raphael said.
Rooms at the hotel, which was rated the top European hotel for service by Travel + Leisure magazine last year, start at £410 a night ($675 at current exchange rates), while suites can run as much as £1,525 (about $2,510), according to rates published in January.
"A lot of people who gravitate to it are the ones who don't want to be in the spotlight," said Farhad Heydari, a luxury lifestyle and travel editor.
The hotel may be popular among the moneyed crowd, but even Jeremy Goring, O.R.'s great-grandson and the fourth Goring to manage the hotel (George retired in 2005), has hinted at what a difficult feat it is to keep it going.
"That we are still standing as a privately owned hotel today is a miracle," he said last year when the hotel celebrated its centenary. (In keeping with its discreet nature, the hotel's management declined to comment for this article.)
The royal wedding will almost certainly raise its profile, said Heydari. "This presents an opportunity to put it on a much more global stage. It's publicity that no money can buy," he said.