Big Oil's $38 billion defense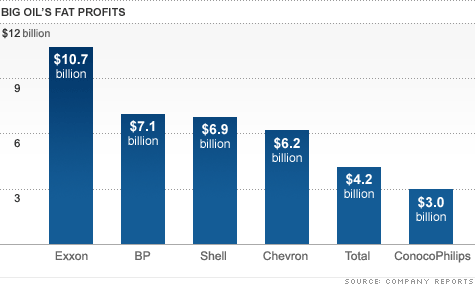 NEW YORK (CNNMoney.com) -- The first three months of the year were good to the oil industry -- although American drivers and their elected leaders are not offering congratulations.
This week, the world's six largest publicly traded oil companies reported a combined $38.1 billion in first-quarter profits. Of the so-called supermajors, only BP (BP)'s earnings declined from the year before.
The windfall stems from a surge in the price of oil, which jumped 16% in the first quarter, rising firmly above $100 a barrel in March.
But the spike in oil prices has been a blow to consumers, with gas prices rising near record highs across America.
As a result, the oil industry has come under fire from lawmakers in Washington for reaping billions in profits while U.S. drivers get squeezed.
Now, Big Oil is fighting back.
Shortly after posting first-quarter earnings of nearly $11 billion Thursday, Exxon Mobil (XOM, Fortune 500) issued a defensive statement arguing that it's not to blame for $4 gas. The company put part of the blame for soaring oil and gas prices on the U.S. government.
"For every gallon of gasoline and other products we refined and sold in the United States, we earned about 7 cents," said a statement from Exxon vice president Ken Cohen. "Compare that to the 40 to 60 cents per cents per gallon that went to the government (state and federal) in gasoline taxes."
The industry's top lobbyist also went on the offensive, saying the earnings that these companies reported this week reflect a strong economy and are a boon for investors, including many pension funds.
"The U.S. oil and natural gas industry's strong earnings signal growing strength in our economy," said Jack Gerard, chief executive of the American Petroleum Institute. He said Americans "should be proud" of an industry that supports millions of jobs and provides income for retirees who have shares of profitable oil companies in their retirement accounts.
The industry comments came after President Obama renewed his call for Congress to end tax breaks for the industry that he says are worth $4 billion. "As we work together to reduce our deficits, we simply can't afford these wasteful subsidies," the president wrote Tuesday in a letter to congressional leaders.
The oil industry and many of its supporters in Congress have long argued that the tax breaks encourage domestic oil production and provide jobs for millions of Americans. Republicans, in particular, have resisted efforts to eliminate these tax breaks, something many Democrats have been trying to do since at least 2008.
Exxon's Ken Cohen said in his statement that the debate has been clouded by "misinformation," and that the push to eliminate subsidies is a really an attempt to raise taxes on the industry by taking away "long-standing deductions" that companies in other industries still enjoy.
"The simple truth is that these are legitimate tax provisions to keep U.S. industry internationally competitive -- to keep jobs from being exported to other countries," he said.
But critics say the subsidies are unwarranted given the fiscal challenges the nation is currently facing and the amount of money oil companies are making.
"There is no reason American taxpayers should subsidize Big Oil's profits," said House Democratic Leader Nancy Pelosi in a statement.
Pelosi called on Speaker of the House John Boehner, who suggested earlier this week that he might would be willing to consider ending some of the tax breaks, "to make good on that statement and schedule a vote next week on ending taxpayer subsidies to Big Oil."
The Obama administration also recently established a task force within the Justice Department to investigate speculation in the oil and gas markets.
Cohen said the creation of a task force is "now a time-honored tradition when prices increase," adding that some politicians are trying to "demonize" the oil industry.
He said oil prices, which have surged 20% this year, are being driven higher by forces outside the industry's control. In particular, he pointed to strong global demand for energy, political instability in the Middle East and the weak U.S. dollar.
In an effort to put Exxon's earnings "into context for U.S. motorists," Cohen stressed that most of the company's profit in the quarter came from its overseas operations.
Exxon's refining business, which converts crude oil into gasoline, contributed only 6% of the company's profits, according to Cohen. He said that's because Exxon buys more oil than it produces in the United States, so it must make up the difference by purchasing oil at current market prices, which are averaging about $110 a barrel.
That "context" may be cold comfort for American drivers, who are now paying an average of $3.90 a gallon for gas.
Among the other major publicly traded oil companies, BP (BP) said it earned $7.1 billion in the quarter, down from $6.1 billion a year ago. Chevron (CVX, Fortune 500) earned $6.2 billion; Shell (RDSA) took in $6.9 billion and Total (TOT) had a $4.2 billion profit. ConocoPhilips (COP, Fortune 500), the smallest of the Big Oil family, earned $3 billion.
The recent rise in oil and gas prices put a damper on U.S. economic growth in the first quarter.
The government said Thursday that U.S. gross domestic product, the broadest measure of economic activity, slowed to 1.8% from 3.1% in the fourth quarter of last year.
The decline was due largely to a pullback in consumer spending, as gas prices take a bigger bite out of household budgets, and higher prices of oil imports.