Luxury hotels on a motel budget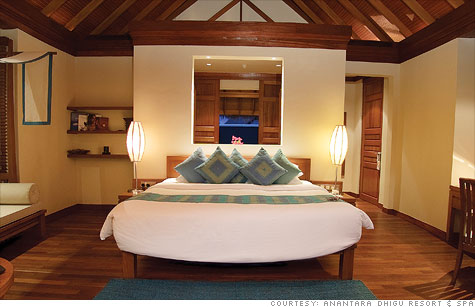 (MONEY Magazine) -- Think you can't swing a stay at a hotel with Egyptian cotton sheets, a chocolate on the pillow, and round-the-clock concierge service?
While rates on luxury lodgings are rising fast -- in the U.S., they're expected to be up 7% in 2011, vs. 4% for hotels overall, reports research firm STR -- occupancy remains below pre-recession highs.
Thus, the market is generally "still in the consumer's favor," says NYU hospitality prof Bjorn Hanson. So if you play the inventory game right, you can score a high-end hotel for a mid-tier price.
Get the secret deals
The past few years have seen the launch of several members-only sites offering limited-time sales on luxury hotels -- among them, Jetsetter.com, Ideeli.com, Vacationist.com, and SniqueAway.com. Such sites typically beat other published prices by 20% to 35%, says Hanson.
Recently you could get a king superior room at Montreal's four-star Hotel Nelligan for $145 via SniqueAway, while the cheapest rate elsewhere online was $225. (Hotels use the sites not only to unload unsold rooms, but also to get their names in front of sophisticated consumers.)
Despite the air of exclusivity, you can easily request an invitation on the sites. Members have the choice of a handful of deals at a time, typically available for bookings up to three months out.
The sites are particularly useful for resort destinations and perennially popular locales -- "most of the time one of them has something in New York City," says Ed Perkins of SmarterTravel.com. If you're headed off the beaten path, you may not have as much luck. And while you'll often save, compare rates online before booking to be sure.
Name your price
You can also try to bid your way to savings via LuxuryLink.com or SkyAuction.com, which auction off certificates good for stays at luxury hotels.
LuxuryLink has the more extensive selection, with more than 1,000 auctions daily -- all of them for lodging, some including extras like meals or spa treatments. (SkyAuction also deals in restaurants and flights.)
On either site, you can set a cap and let the system bid for you until the auction end date. But before doing so, know the lowest going rate at the resort, which you can find by checking Kayak.com and the hotel's site. Set your max lower, and account for additional service or handling fees, which should be listed.
Looking at past results, savings of 50% off the best available rate are fairly common; less touristy locales offer the greatest potential savings. One caveat: Though LuxuryLink lists blackout dates, it's still wise to contact the hotel before bidding to make sure you can use the certificate when you want to travel.
Negotiate directly
The resort you want isn't on these sites? Go the old-fashioned route and pick up the phone. Ask if the hotel can beat what you found online. Independent properties typically have more flexibility with rates. But with chains, you might have luck dealing with the front desk manager (vs. central reservations, which has less stake in filling the rooms).
Up your bargaining power by mentioning special occasions (hotels like to be associated with happy memories, says Joe Brancatelli of travel site JoeSentMe.com) and loyalty program memberships.
While you can't count on negotiating a discount, you may learn about unadvertised promotions or refundable rates. With the latter, you can continue to search for a better deal until the cancellation date.