From outer space to Brazil: Why Kraft is taking Tang to Pernambuco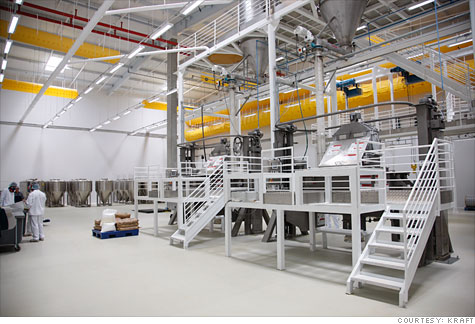 FORTUNE -- In the U.S. Tang might be considered a retro drink that brings back memories of astronauts bouncing around the Moon, but in Brazil, it seems consumers can't get enough of the powdered beverage.
On Tuesday, Kraft will open its sixth manufacturing plant in Brazil to help keep up with soaring demand for products like Tang in Kraft's largest developing market. (Last year alone Tang's organic net revenue grew 31% in the country.)
The $80 million, 270,000 square-foot plant will be the first for Kraft (KFT, Fortune 500) in the north-northeast of the country, the fastest growing region in not just Brazil but all of Latin America, according to according to the world's No. 2 food company.
"We're actually putting our money where our mouth is," says Sanjay Khosla, president of Kraft's developing markets unit.
The project is part of the $200 million investment the company will make in Brazil in 2010 and 2011, Kraft's largest injection of money into the nation in a decade. The plant, located in Pernambuco, will eventually employ 800 locals and make Tang and Fresh powdered beverages, Bis and Lacta brand chocolates, and in 2012 start making Club Social biscuits. The Brazil team has been working closely with its counterpart in India on formulas that are resistant to the hot climate.
The move is the latest step in Kraft's efforts to evolve from a U.S.-focused food enterprise into a global powerhouse. Thanks in part to its 2010 acquisition of Cadbury, Kraft's developing markets segment has grown from 13% of the company's business in 2006 to nearly a third in 2010 with almost $14 billion in revenue. Last year Brazil generated $1.9 billion in sales, with its organic net revenue climbing 16%.
"Cadbury was transformative," says Jonathan Feeney, food and beverage analyst for Janney Capital Markets. In Brazil alone, the acquisition turned Kraft into the No. 3 food company in the country, giving it the No. 1 position in categories like gum with the addition of the Trident brand. It also more than doubled the number of outlets Kraft has to sell its products in Brazil and gave the company access to the "hot zone" -- the area near the register.
The north-northeast is critical for Kraft due to its status as a truly developing region within a developing market. Historically a poor area, the north-northeast has seen a buildup of infrastructure in the last decade thanks to investments from the government and private enterprise.
Over the last several years, the region's GDP has grown at twice the rate of the rest of the country's, but still has not reached the same level of market maturity as Brazil overall, says Marcos Grasso, president of Kraft's Brazil business. Take chocolate, for example, which has 56% penetration in Brazil. In the north-northeast region it's at only 19%.
While Kraft has a sprawling portfolio in the U.S. ranging from Triscuits to Cool-Whip, the company's strategy in its developing markets segment is much more focused. Kraft has dubbed the strategy 5-10-10: focusing on five categories through 10 "power brands" in 10 priority markets.
"The whole philosophy here is you invest in a few things and do it well rather than putting flags all over the world," says Kraft's Khosla.
Kraft's focus on items like chocolate and biscuits in developing markets has led the company to the top of the global snacking market with just over a 10% share. (Snacks make up about 70% of sales in countries like Brazil versus about 30% in North America.)
Not only are items like gum and chocolate high margin products, but they also sit at a key price point for consumers who are new to disposable incomes. Kraft adjusts the size and portion of the products accordingly. A pack of trident in Brazil is five pieces compared to 14 in North America so it can be priced to one Brazilian Real. "One Real is the magic coin to maximize consumption," explains Grasso.
Rather than introduce new items, Kraft's focus in developing markets right now is on its core products and adjusting them to local tastes. So while Orange Tang is still the No. 1 flavor worldwide, in Brazil you can also find flavors that are native to the region like siriguela, acerola, and graviola. (In Mexico you can find horchata Tang, or lemon pepper in the Middle East.)
By putting more autonomy in the hands of local leaders, Khosla says it lets the company act like a small operation in-country, while leveraging its scale as an international firm. The dividends from such independence, says Khosla, travel in both directions. "You used to have innovation coming from developed markets and now you're getting a number of examples where countries like Brazil, countries like India, they're increasingly becoming a source for innovation and ideas," he says.
Even though NASA, whose early spaceflights made the powdered drink famous, is on its last few shuttle missions, such innovations might breed a Tang renaissance in the U.S., well before astronauts reach Mars -- the planet, not the candy-bar company.