Gas could top $4 nationwide this week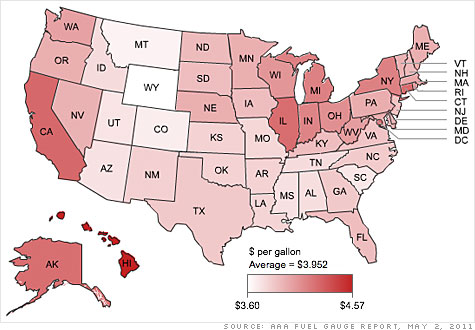 NEW YORK (CNNMoney) -- After jumping more than 3 cents over the weekend, gas prices across America could top $4 a gallon this week, according to one industry analyst.
"We're going to hit $4 this week, nationally," said Tom Kloza, chief analyst at the Oil Price Information Service. "There's enough momentum to take us up there."
As of Monday, the national average price for a gallon of regular gasoline now stands at $3.952, according a daily survey from motorist group AAA. That's up from $3.943 a gallon on Sunday and continues a 44-day streak of gas price increases.
Over the weekend, gas prices jumped 3.4 cents nationwide. Gas currently averages more than $4 a gallon in 13 U.S. states and the District of Columbia.
Kloza, whose organization compiles data on gas prices for AAA, said this weekend's surge was a delayed reaction to deadly storms across the South last week that temporarily knocked out power at some oil refineries along the Gulf Coast.
He also noted that refineries located around the Great Lakes have been shut down recently for scheduled maintenance, which has put upward pressure on gas prices across the Midwest.
Kloza estimated that the national average gas price could hit $4 a gallon as soon as Wednesday. "If not by May 4," he added, "then by Derby Day or Mother's Day," which respectively fall on May 7 and May 8.
Gas prices have not averaged $4 a gallon nationwide since July 2008.
Gas prices in many states still average well below $4. In Wyoming, for example, they average $3.60 a gallon.
But gas prices across the nation have been rising sharply this year, with the national average up 88 cents, or nearly 29%, so far in 2011.
The spike has been driven by a rally in the price of crude oil, as investors react to a combination of strong global energy demand, political instability in the Middle East and a weak U.S. dollar.
Gas prices typically rise in the weeks heading up to the Memorial Day holiday, which marks the unofficial start of the summer driving season. After that, prices usually back off the highest levels of the year.
"I do think we'll backtrack from the peak, which we'll probably see sometime in the next two weeks," said Kloza. He said it is highly unlikely that gas prices will reach $5 a gallon nationwide.
While gas prices could ease next month, there is often a second spike ahead of the Fourth of July Holiday. Kloza said that's largely due to hurricane season, which can wreak havoc on oil production in the Gulf of Mexico.
Has the recent run-up in gas prices forced you to cutback in other areas of your spending? If so, please email us and share your story.