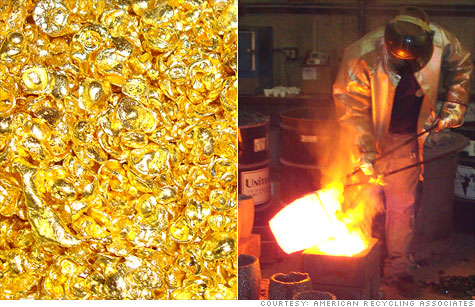 Recyclers can make a mint, buying scrap gold -- often old jewelry -- turning it into pure gold bars and reselling it at market prices.
NEW YORK (CNNMoney) -- For Don Kilgore, the road to riches is paved in gold and a little silver, too.
The co-owner of Dallas-based American Recycling Associates, which recycles precious metals, has seen his profits swell because of surging gold and silver prices in the last few years.
Even though gold and silver prices have fluctuated recently, the company is still doing well, said Kilgore, adding, "we are swamped every day."
Gold and silver prices, which closed Tuesday at $1,540.40 an ounce and $42.59 an ounce have declined in the last week.
Nevertheless, American Recycling Associates (ARA) has still been making a mint. In the last three years, Kilgore has gone to 14 employees from three in just 3 years, renovated an existing lab and completed construction on a second one last week.
His good fortune is not surprising. The entire precious metals industry -- which includes miners, recyclers, refiners and smelters -- is benefiting as gold and silver values soar, said Carlos Sanchez, a precious metals analyst at CPM Group.
How the company makes money: Each year, ARA buys tons of scrap gold and silver from jewelers, pawn brokers or "cash-for-gold" operations.
The company pays between 98% or 99% of the market value for the jewelry, processes it, and then resells the pure gold and silver at market prices.
The profit margins are razor thin, so ARA must process huge amounts of precious metals. "The amount that we deal with is pretty massive, which is why we do not deal with the public," said Kilgore.
Once the company gets the jewelry, it recycles or "refines" it in its labs. The precious metals are melted down; stones and impurities are removed, and pure gold and silver bars are created.
Those bars are then sold to commodity firms, jewelry manufacturers and even the government at current market prices.
ARA also makes money keeping any extra silver that it finds when processing gold jewelry. Most gold jewelry has a little silver in it, explains Kilgore, adding that the company keeps that silver as a part of its fee.
Soaring gold and silver prices: Lately, ARA has been able to process more precious metals, thanks to appreciating gold and silver values.
Cash-strapped consumers are enticed to sell their gold jewelry while the price is high. "With the recession having passed and many people having lost their jobs, selling gold for cash has been a way to generate some type of income stream," said Sanchez.
Gold prices have climbed steadily for the past 10 years; while silver prices have stayed steady for much of the decade.
Prices for the yellow metal began surging several years ago; while prices for silver really took off in the last year. Investors -- spooked by war, inflation, the burgeoning U.S. deficit and a weakening dollar -- tend to put their cash in the precious metals, because they are viewed as safe havens.
Prices have also gone up because investors don't want to be left out. "It is a bull market, and many investors want to get in on a rising-prices trend," said Sanchez.
Despite the slight correction in gold and silver prices, Kilgore said he is optimistic about his company's future.
"We expect the prices to rise again," he said.
Kilgore added that he also expects his company to do well going forward. "I have seen more silver come in now more than ever," said Kilgore. "Most people have always held onto their silver."