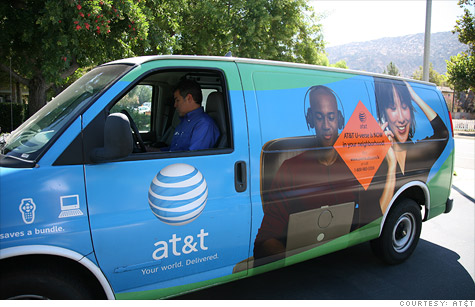 NEW YORK (CNNMoney) -- The days of all-you-can-surf broadband are vanishing.
AT&T this week began capping its Internet delivery service for broadband and DSL customers. The move comes 11 months after it placed similar caps on its mobile customers.
U-Verse -- AT&T's high-speed broadband, television and telephone network -- now limits customers to 250 gigabytes of Internet usage each month. DSL users are capped at 150 GB. Customers who exceed the limits will have to pay $10 for each additional 50 GB.
AT&T moved in June to set pricing tiers for its mobile customers, offering light users a plan that maxes out at 200 megabytes. The company also sells a pricier 2 GB plan. AT&T (T, Fortune 500) remains the outlier among the three major wireless companies, though Sprint (S, Fortune 500) and Verizon (VZ, Fortune 500) Wireless are expected to follow suit with caps soon.
But AT&T isn't alone in instituting restrictions on residential broadband usage.
Comcast (CMCSA, Fortune 500) -- by far the largest broadband provider in the U.S. -- also has a 250 GB cap, and Time Warner Cable (TWC, Fortune 500) experimented with a tiered billing service in some markets in 2008. Though broadband caps are a relatively new phenomenon in the United States, variations on Internet cap structures are quite common in Canada, Asia and in European countries.
AT&T's caps will affect just 2% of its customers, the company said. The restrictions are necessary, AT&T maintained, because those in the top 2% use up 20% of the network's bandwidth. The highest-traffic users download as much as 19 typical households, on average, which slows speeds for other users, AT&T said.
"Our approach is based on customers' feedback," said Mark Siegel, spokesman for AT&T. "They told us that the people who use the most should pay more, and they also told us we should make it easy for them to track their usage. We think our approach addresses these concerns."
Siegel called the caps "generous," and said that AT&T's DSL customers use just 18 GB per month on average. The company didn't provide similar statistics for its U-Verse high-speed Internet customers. Globally, broadband customers typically use 15 GB per month, according to Cisco (CSCO, Fortune 500).
The caps are fairly forgiving. DSL customers would need to watch 65 hours of high-definition videos on Netflix (NFLX) to reach the limit, and high-speed customers would need to watch 109 hours.
Analysts see the move as a strategic one. AT&T, Comcast and many other broadband providers also sell cable TV service, which a growing number of customers are dropping in favor of video on-demand services like Netflix.
"This probably isn't absolutely necessary," said Vince Vittore, broadband analyst at Yankee Group. "It's mostly a move to prevent customers from cutting off video services."
Vittore believes Comcast and AT&T's caps are indicative of what will become a larger trend in broadband services throughout the country.
Cisco recently forecast that video on-demand usage will double every 2 1/2 years. AT&T said its customers are using more broadband as data-intensive video services like Netflix become more popular. Video currently makes up 40% of all Internet traffic and will exceed 91% by 2014, according to Cisco.
Though typical broadband users don't come close to approaching the caps now, the increase in average video consumption will undoubtedly cause a greater number of users to exceed their limits in the coming years.
That could force broadband providers to raise their caps in the future if customers begin to complain.
To head off a backlash, AT&T is sending customers alerts when they reached 65%, 90% and 100% of their data allotment each month. The company is also giving customers an undefined grace period before it charges them for another 50 GB. AT&T also is allowing customers to check their data usage online.
Still, data caps likely won't sit well with those who have called for broadband providers to improve their infrastructure and service.
The Obama administration has harshly criticized the state of the country's broadband infrastructure, noting that most other countries offer broader service with far faster speeds. The president even alluded in last year's State of the Union address to a study in which the Organization for Economic Cooperation and Development ranked the United States 31st in median broadband speed.
As part of its National Broadband Plan, the FCC has set out to bring 100-megabit-per-second speeds to 100 million Americans.
Some Internet companies fed up with the state of American broadband are taking matters into their own hands. Google (GOOG, Fortune 500), for instance, is deploying a 1-gigabit-per-second network in Kansas City, Kan.