Chinese investors still searching for U.S. welcome mat
FORTUNE -- Chinese companies have created more than 10,000 American jobs in 35 states as they seek to go global and expand into the U.S. market -- investing more than $5 billion here in 2010 alone.
But the unfortunate perception that Chinese investments are unwelcome in the U.S. for political reasons risks deterring further investment, turning away the opportunity for further capital inflows and job-creation, according to a study released Wednesday by the Asia Society in New York and the Woodrow Wilson Center for International Scholars in Washington.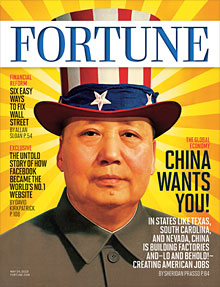 It's all part of political tit-for-tat in Washington, where some lawmakers are seeking to hit back at China in response to reports of negative treatment of U.S. investors in that market -- or simply to take advantage of anti-China sentiment among an electorate that's angry over job losses during the economic downturn. The irony, of course, is that with national unemployment still nearly 9%, jobs are badly needed in the U.S., no matter who is doing the creating.
"Political interference and fear-mongering threaten to divert legitimate and potentially beneficial investment deals," the report says. "If political interference is not tempered, some of the benefits of Chinese investment -- such as job creation, consumer welfare, and even contributions to U.S. infrastructure renewal -- risk being diverted to U.S. competitors."
In other words, why set up shop in a hostile United States when it's easier to take advantage of North American Free Trade Agreement (NAFTA) provisions and head to Juarez, Mexico instead of Texas, or Ontario, Canada instead of Michigan, and simply export to the U.S. market instead?
For a number of reasons (see "American Made...Chinese Owned," Chinese companies want to be closer to U.S. consumers to figure out their desires and interests. They also want to take advantage of the fact that the recession has made the U.S. a cheap manufacturing destination compared to coastal Guangdong province and Shanghai. And in some cases -- such as the construction of a plant to make seamless pipe for the oil-drilling industry, which Tianjin Pipe Group of China is currently building in Corpus Christi, Texas -- it makes sense to evade 99% tariffs on imported steel. That plant will ultimately create 600 jobs, though its completion has been delayed by a year until 2013.
While most deals pass without scrutiny, regulators have acted twice to prevent the Chinese telecoms equipment manufacturer Huawei from purchasing U.S. companies. The latest move came in February of this year, when Huawei was forced to retroactively give up its purchase of a defunct Californian cloud computing company it had bought last year. Huawei says it did not think the technology it acquired from the company was so sensitive as to require regulatory approval, since it was not covered under U.S. technology export restrictions. U.S. lawmakers have also launched letter-writing campaigns against attempts by Huawei to sell its equipment to U.S. telcos, namely Sprint Nextel (S, Fortune 500) and U.S. Cellular.
Such moves have a chilling effect, the Asia Society report says. "Though the legally mandated screening organ for national security risks, the Committee on Foreign Investment in the United States (CFIUS), generally has operated in a fair manner, bad publicity stirred up by the threat of congressional interference is having a chilling effect on Chinese readiness to invest in the United States by sending confusing and unclear messages," it reads. "Chinese investors, though attracted by the United States' wealthy consumer base, skilled labor, sound regulatory environment, and impressive technology and knowhow, are confused and cynical about the relationship between policy and politics."
The report recommends that U.S. lawmakers send a clear, bipartisan message that Chinese investment is welcome here. It also recommends that Washington take more active measures to lure investment from China, rather than just relying on the 33 states and municipalities which currently maintain offices in China to seek investors on a piecemeal basis. Otherwise, we'll be waving those Chinese investment dollars, and the American jobs that could come along with it, goodbye.
Sheridan Prasso is a long-time contributing editor at Fortune and an associate fellow at the Asia Society.