N.Y. schools play role in unemployment filing surge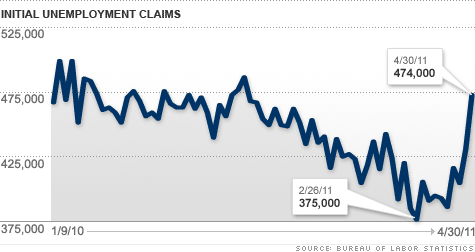 NEW YORK (CNNMoney) -- The nation's jobs recovery suffered a setback last week, but quirkiness in the measure of weekly unemployment claims clouded the picture.
Americans filing for their first week of unemployment benefits surged last week, the Labor Department said Thursday.
The number of initial claims rose to 474,000 in the week ended April 30, up 43,000 from the week before. It was the highest level since August, and a surprise to economists, who were expecting initial claims to drop to 400,000 in the latest report.
"It is pretty unsettling to see this large of an increase," said David Resler, chief economist of Nomura Securities. "It is a bit of an enigma, but it's too early to hit the panic button."
The report immediately had economists puzzled and scrambling for explanations. Was the increase due to layoffs in the auto industry, following Japan's earthquake? Are companies cutting back because of higher gas prices?
According to a government official familiar with the report, it was something much more unusual. Schools on spring break in New York threw the entire reading off kilter.
In some states, education workers -- such as cafeteria workers, bus drivers and other contracted employees -- are able to file for unemployment benefits when school is out of session.
The government usually tries to account for this temporary distortion, by seasonally adjusting the numbers. But this time around, claims related to New York spring break were not factored into that adjustment, the government official said.
A new emergency benefits program in Oregon, which brought in more applicants, also distorted the numbers slightly, the official said.
Meanwhile, states reporting the largest increases in initial claims also cited layoffs in the transportation industry, which has been hurt by both by the Japanese earthquake and higher gas prices.
The Japanese earthquake in March disrupted international supply chains, particularly for auto parts, and the effects are still rippling through the economy, said Jennifer Lee, senior economist with BMO Capital Markets.
"I think we might see more of a dampening impact from the auto sector in the next few months at least," she said.
Initial claims had been gradually trending lower over the last year, falling as low as 375,000 at the end of February. But in April, the job market seemed to stumble, keeping initial claims above the 400,000 mark for four consecutive weeks.
That recent uptick has Wall Street slightly on edge, ahead of the government's widely anticipated monthly jobs report due Friday. Economists surveyed by CNNMoney expect the unemployment rate to hold steady at 8.8%, while employers added 185,000 jobs in April.
"Probably everybody is a little weary heading into tomorrow," Lee said.
The number of Americans filing for ongoing claims rose 74,000 to 3,733,000 in the week ended April 23, the latest data available. It marked the largest weekly increase since July.
Are you under-employed? Do you have a job, but still have a hard time paying the bills? Send your story, name and contact information to realstories@cnnmoney.com, and you could be featured in a story on CNNMoney.