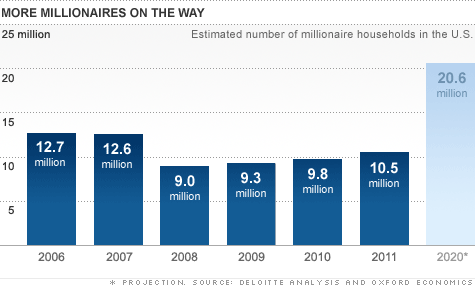 NEW YORK (CNNMoney) -- Despite the Great Recession, which wiped out $15.5 trillion in household wealth in the United States alone, the number of millionaires in this country and abroad will grow rapidly over the next decade.
In the U.S., the total number of families with a net worth of over $1 million, including real estate, will double by 2020, according to a report by the Deloitte Center for Financial Services.
Overall, the U.S. and Europe have the greatest concentrations of wealth than any other region, although emerging markets are narrowing the gap.
China will lead the way in millionaire growth, the report said, followed by Brazil and Russia.
By 2020, China and South Korea will rank in the top 10 of countries with the greatest total number of families worth more than a million dollars.
"There is going to be very fast growth, but it will take a lot longer to reach anything like the wealth in the developed world," said Andrew Freeman, lead author of the report. (Calculator: When will you be a millionaire?)
With 10.5 million, the U.S. has -- by far -- the greatest number of millionaire households in the world, despite the financial crisis and ensuing recession which knocked more than 3 million millionaire families off the map between 2006 and 2008.
The number of millionaire households is expected to return to pre-crisis levels by 2015 and reach 20.6 million in 2020, maintaining the U.S.'s position in the top spot.
By then, 43% of the world's wealth held by millionaire households will be in the U.S., up slightly from 42% this year, the report said.
Japan is expected to rank a distant second, with 8.6 million millionaire households in 2020 and 9% of the world's wealth.
China is expected to be No. 7, with 2.5 million millionaire households in 2020 and 4% of the world's wealth.
Within the U.S., California will likely have the most number of wealthy households by 2020, while Wyoming is forecast to have the fewest. New Jersey will have the highest density of millionaires with a quarter of all households projected to be valued at more than $1 million.
The Deloitte report looked at 25 economies worldwide. The definition of wealth included financial assets, such as stocks, bonds and other investments and non-financial assets like real estate, automobiles and art. It was sponsored by the Deloitte Center for Financial Services and conducted with Oxford Economics.