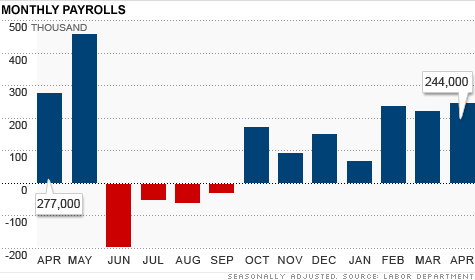 NEW YORK (CNNMoney) -- The jobs recovery picked up speed in April, as business payrolls swelled and the unemployment rate rose as more people returned to the workforce.
The economy added 244,000 jobs in the month, the Labor Department reported Friday. That's up from the 221,000 jobs gained in March. Economists surveyed by CNNMoney were expecting a slight slowdown to a gain of just 185,000 jobs.
Job growth has been strong since the beginning of the year, with 768,000 jobs added since January. And Friday's report also showed that 46,000 more jobs were added in February and March than previously thought.
The unemployment rate edged up to 9.0%, ending a streak of four straight months of declines. Economists had forecast it would remain unchanged at 8.8%.
The rate often increases as the job market improves and previously discouraged workers return to labor force. An additional 113,000 people who were not previously counted among the unemployed, reentered the labor force in April.
"It's ironic, but a rising unemployment rate in this situation is not a bad thing," said Tig Gilliam, president of the North American unit of job placement firm Adecco.
Business hiring widespread
Businesses added 268,000 jobs in April, bringing private sector hiring so far this year to 854,000. It's the strongest month for business hiring since February 2006, nearly two years before the start of the recession.
And the job gains were spread across the nation's business sectors, as 73% of industries have added jobs in the last six months. That's the most broad-based job gain recorded since 1998.
Retailers led the hiring spree, adding 57,000 jobs in the month in a sign of growing confidence in consumers' willingness to spend again. It was the biggest one-month jump in that sector in 11 years.
"This report is a sigh of relief. Economic momentum has not been lost," said Sung Won Sohn, economics professor at Cal State University Channel Islands. "Surprisingly, the rising energy prices have not made a significant dent in businesses' willingness to hire, indicating that their optimism on the economy has not faded."
While most businesses continued to hire, government staffing fell by 24,000 jobs in the month. Most of the cuts were at the state and local level, with public schools cutting almost 5,000 jobs.
"Given the reality of the budget situation, governments are going to have to keep cutting," said Gilliam. "That means the private sector has to be that much stronger to offset the drag from the public sector."
There was more good news in the unemployment survey, as the number of people who had been out of work more than six months fell by 283,000.
Long-term unemployment is widely considered one of the most serious problems with the battered labor market because of the difficulty those job seekers have getting their careers back on track.
Unemployment has fallen nearly a full percentage point from November. But part of that drop has been the result of a decline of people in the labor force. Only 58.4% of the overall population had a job in April.
For all the growth so far this year, job gains are only slightly ahead of the 150,000 new jobs that are needed to keep pace with population growth.
"We have to keep this in perspective. We consider this a lot because we've been in a sluggish, slow-growth recovery for almost two years," said Patrick O'Keefe, director of economic research for account firm J.H. Cohn. "While this is positive news, by historic standards it's still a very tepid recovery."
A CNNMoney survey of 29 economists ahead of the report predicted full-year payroll gains of 2.25 million, or about 188,000 a month. Unemployment is expected to decline to 8.3% by year's end.
"I expect continuation of the moderate employment growth we've seen in the last year," said Scot Melland, CEO of Dice Holdings, a provider of career Web sites. "I'm not expecting a surge, [but] I'm not expecting it to die down."