Small comfort: Gas prices break their streak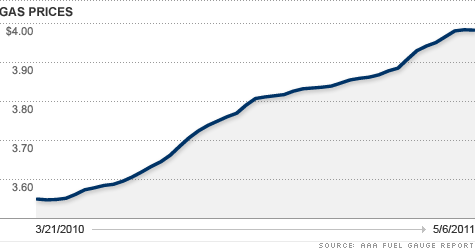 NEW YORK (CNNMoney) -- The recent surge in gas prices showed some signs of cracking Friday, but economists say consumers shouldn't get their hopes up yet.
After rising daily for more than a month, the national average price for a gallon of regular gasoline fell by one tenth of a cent to $3.984, according motorist group AAA.
Any break in gas prices is welcome news for drivers, who have been pouring hundreds of dollars a month into their gas tanks. But it may be too soon to say gas prices have reached their peak for the year.
Much depends on the price of crude oil, which has fallen sharply this week, said Chris Christopher, senior economist at IHS Global Insight.
"As long as oil prices stay down, you should see some easing at the pump," he explained. "But it doesn't happen immediately."
There is often a lag of up to two weeks, as the price of oil filters through the supply chain to your neighborhood gas station.
Chris Lafakis, an economist at Moody's Analytics, estimated that every $1 decline in the price of oil translates to a 2.2 cent drop in gas prices.
When you do that math, it suggests that gas prices move to about $3.75 a gallon, Lafakis said -- based on this week's roughly $10 decline in oil prices. "But it usually takes a week or two for oil prices to be reflected in the price of gas."
One of the reasons oil prices fell this week, is because investors are worried that the economy may have hit a soft patch.
"There's a sense that energy demand worldwide is not as strong as originally thought," Christopher said.
Ironically, part of the reason why the economy is considered to be at risk is because of high gas prices.
As gas prices rise, consumers cut back on spending. That makes investors nervous about economic growth, and can cause employers to stop hiring. A weak job market means consumers are less likely to spend.
It is what economists call a "negative feed back loop."
But concerns about the economy were tempered Friday, after a strong report on the nation's job market.
Gas price factors: After spiking near $115 a barrel earlier this year, oil prices fell below $100 a barrel Thursday for the first time in weeks.
While prices rebounded Friday morning, oil is on track to end the week about 10% lower.
The volatility in oil prices is "the big risk to our forecast," Lafakis said.
Oil prices are driven by a combination of factors that are difficult to predict. In particular, many investors are worried that the political turmoil in the Middle East could result in large amounts of oil being taken off the global market.
"We're more worried about oil prices rising than falling," Lafakis explained.
Aside from oil, gas prices are impacted by seasonal factors.
Many gas refineries shut down at this time of year for maintenance, and prepare to begin making cleaner blends of gasoline during the summer. This squeezes producer's profit margins and pushes prices up.
But the impact of tighter refining margins usually fades after Memorial Day, Lafakis said.
In addition to the seasonal maintenance factor, there is also a seasonal increase in gas demand during the summer as more Americans take to the roads for vacations.
"We're coming closer to driving season," Christopher said. "That could put more pressure on gas prices."