Target-date funds: Don't 'invest and forget'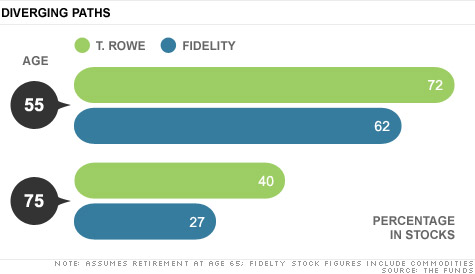 (Money Magazine) -- I'm 45 and own a target-date fund for retirement. Are these funds "invest and forget"? -- Joseph Dipasquale, Phoenix
Since gaining traction in the early 2000s, target-date funds have been touted as a convenient route to a diversified retirement portfolio. Convenient they are.
If you don't like picking investments, you can buy a target fund with a date that matches the year you plan to retire and get a portfolio that, at least in theory, is suitable for your age.
But that doesn't mean you can invest and forget. Many retirees and near retirees learned the downside of that hands-off approach in 2008 when their stock-heavy target funds lost as much as 40%.
In response, the Securities and Exchange Commission and the Department of Labor proposed rules that, among other things, would require target funds to better explain how they invest. But don't wait for any regulatory relief. Do your own due diligence.
The key question you need to ask yourself is whether a target fund's mix of stocks and bonds is right for you. And since that allocation changes over time, you need to check in periodically to be sure you're still okay with it.
Even funds with the same target date can vary significantly, especially in the years right before and after retirement (see the graphic at right). According to a Morningstar report, among 2010 funds stock holdings range from 20% of assets to more than 50%.
There's no single "correct" mix. Anyone who's risk-averse and will be counting heavily on a modest 401(k) may want to go easy on stocks. With a bigger nest egg plus a traditional pension, you may be able to handle stocks' higher volatility.
If you find the fund in your 401(k) too racy, you can trim your stock exposure by choosing a fund with a retirement date five years earlier. Conversely, to take a bigger bet on stocks, pick a later date.
You can typically switch funds anytime, and you won't owe any taxes as long as you hold the fund in a 401(k) or other tax-advantaged account.
Since target funds are designed to be complete portfolios, they generally work best if you keep all or nearly all of your retirement savings in one. When you add other funds -- or, say, diversify into an asset your target fund doesn't hold -- you could end up with a portfolio that's riskier or more conservative than you intended.
Finally, look at costs. Target-fund fees are all over the board -- 0.19% to 1.71% a year, says Morningstar. About 1% is typical. If you're paying much more, you have to question whether the convenience is worth the return you're probably giving up.
But what you don't want to do is buy a target fund and forget about it. Do that, and you may have to forget your retirement plans too.